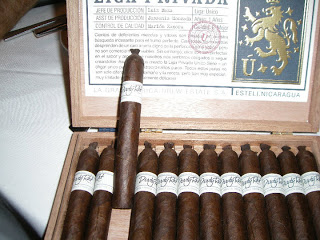 A couple of months ago, I posted a Pre-Review of the Liga Privada Dirty Rat. A lot of times with new cigars, there may be circumstances that prevent from providing a fair review. Therefore, my concept of doing a Pre-Review is to provide some initial thoughts of a cigar without going as far as to provide a full assessment. With the case of the Liga Privada Dirty Rat, I felt the cigar needed some more aging a I do believe the lack of aging impacted the overall experience of enjoying the Dirty Rat. Well, after two months aging, I'm pleased to now provide a final assessment of the Dirty Rat.
First up, a little information about the Dirty Rat. Like the Pre-Review, I'd like to start with Drew Estate's President Steve Saka's recent press release: "At this point, we have made 200 or more Liga Privada blends. There are probably 9 or 10 of them so far that are exceptional, however their blends differ from both the No. 9 and the T52 branded cigars. They're cigars that work as a particular size, such as a lancero or corona, with the blend being unique to that particular vitola. The 'Dirty Rat' is a great example of this, so we have decided to introduce this as the first cigar in the Ünico line."
In the Pre-Review, I also posted some thoughts on a conversation I had with Steve Saka at IPCPR at the Joya de Nicaragua dinner:
When I sat across from dinner with Steve Saka during IPCPR, I did mention I wanted to keep most of the conversation off of Cigar Coop because I felt Saka was talking candidly and over the record. However, I can tell you from that conversation that Steve Saka was genuinely excited about this stick. He definitely is a fan of a cigar of this particular size. Now normally, I am a 6 x 60 Magnum fan, so a stick of this size does not fit my profile. But given that the Liga Privada T52 was my 2009 Cigar of the Year and there are some parallels (namely the Stalk-Cut American Habano) , I felt this was a cigar to definitely look at.
So here is a recap of the composition of this cigar. Since the Ünico will only make a stick in one size, this will only be available in a 5 x 44 Corona. These will be packaged in boxes of 12 cigars.
Wrapper: Stalk-Cut "American" (Connecticut) Habano
Binder: Brazilian Mata Fina
Filler: 5 different tobaccos from Honduras and Nicaragua (Esteli)
Now as far as the taste profile, there is a significant difference I picked up this time. In my Pre-Review, I discussed how I did not pick up the cayenne pepper notes that I heard many people mention. This time, I picked up some cayenne pepper starting around 20% into the smoke. I'm going to chalk this difference up to the aging. The cayenne pepper was never overpowering, but did increase as the smoke progressed. The hints of ceder, baker's chocolate, licorice, and nuts mentioned in the pre-review are also present, but this time the flavors seemed more full and more pronounced . I will also chalk it up to aging. Now the cigar was ready for prime-time. (Please refer to the pre-review for the details on the flavor profile and transitions, but note the addition of the cayenne pepper to what I mention there)
This is definitely a full-bodied stick that produces lots of smoke. While the cigar is less than full-strength at the start, pretty much this will be a full strength smoking experience for most of the cigar. This time, like the Pre-Review I got a firm finish that burned cool right to the nub – not harsh at all… Like what I mentioned in the Pre-Review, when I say nub, I mean nub. Below is the nub I got on the pre-review. My follow-up smoke clearly gave me just as good a nub.
The Nub from my Pre-Review Dirty Rat – consistent each smoke
During the Pre-Review smoke, I did have a pretty good burn, but did have to touch it up. This time no touching up was needed whatsoever. This was a razor sharp burn throughout the smoke. I had a nice draw on this stick too.
I also must make one more note. As I mentioned, I am more of a Magnum size cigar smoker as opposed to a Corona size one. While normally I prefer a large ring-gauge, I did enjoy this cigar. If I were to reach for a Corona, this would be a stick I would reach for.
Overall, Drew Estate and Liga Privada do it again. While I do think this is still a notch below the Liga Privada T52 (my 2009 Cigar of the Year) and the Liga Privada No 9, this is still a fine stick.
Strength: Full
Body: Full
Assessment: Nice to Have