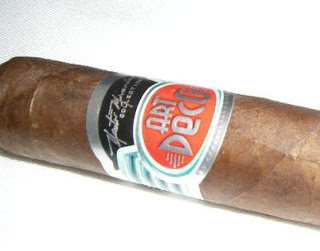 #28 Nestor Miranda Art Deco
Here we go with third installment of "30 Sticks in 31 Days", my Top 30 2010 Cigar of the Year countdown.
For Cigar #28 on the Top 30, my selection is the Nestor Miranda Art Deco by Miami Cigars. From a visibility standpoint there are two striking features: The Retro "Diner Style" band and a beautiful Nicaraguan Corojo wrapper. Perhaps the most interesting feature are the two cigar-ebrities that collaborated on this cigar – Nestor Miranda and Don Pepin Garcia.
For Pepin fans, the blend of this cigar is a little different. In a press release Nestor Miranda explained, "We wanted to get Pepin out of his comfort zone, which is using Nicaraguan tobacco. He accepted the challenge and came out with an amazing blend using 40% Dominican tobacco." While not the most complex stick, the end result has some terrific flavor notes – cinnamon and pepper early on transitioning to cocoa as the smoke progresses. The body and strength of falls right into the Medium to Full spot.
A full review is available here for more details on my experience with this cigar.
Recommended Vitola: Gran Toro (6 x 60)