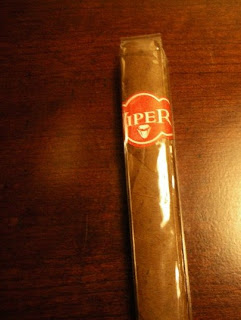 #29 – Gurkha Viper
This is the second installment of "30 Sticks in 31 Days", my Top 30 2010 Cigar of the Year countdown.
For stick #29, I selected the Gurkha Viper. This stick marked a dramatic change for Gurkha in that they moved away from their elaborate packaging and bands and opted for simplicity. As you can see from the red band, this was a big change in direction.
However, the simplistic packaging was not an issue for the quality of this stick. Overshadowing the band on this cigar is a wonderful Dominican box-press wrapper on it. From a flavor profile, this stick hits the mark. It maintains a terrific cedar sweetness throughout the smoke with hints of caramel. The strength of this cigar is interesting – it starts out mild and actually builds up close to the medium to full range by the end.
A full review is available here for more details on my experience with this cigar.
Recommended Vitola: Robusto (5 x 50)