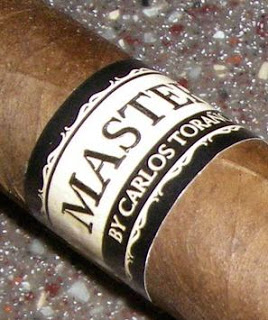 Last year was a terrific year for the Torano Family Cigar Company. Not only did Torano to take back control of its own distribution, but they also released three new cigars in 2010. The one cigar that most excited me was the Master by Carlos Torano. This cigar rated #17 on my Top 30 Cigars of 2010 – an outstanding rating considering how competitive 2010 was with new releases. Today, I saw some information on the Torano Facebook page that a new vitola is about to be released – this vitola is called the BFC.
The most exciting thing to me about this Vitola – it will be a 6 x 60. For those that know me or follow me here, they know that this is my "go to" size for a cigar. Given how great this cigar was, I'm even more pumped to give this new vitola a whirl.
Side note – If you haven't tried the Master, I'd encourage you to do so – you won't be disappointed.
Click here to see a picture of the this stick posted on Torano twitter.