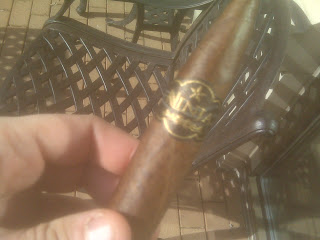 New band for Gurkha Ninja (Perfecto)
In 2010, Gurkha introduced two value-priced cigars. I happened to think these were terrific cigars and placed both of them in my Top 30 for 2010. The Gurkha Ninja was my #26 cigar and the Gurkha Viper was my #29 cigar. There was one issue that was a prevailing problem with the cigars – the band. Well the good news is that has changed.
Much of the reasoning for the old band was to promote an image of simplicity as these are priced as value-priced cigars (ones in the $5.00-$7.00 range). However the overwhelming perception from talking to end consumers and retailers is that Gurkha went too far with the simplicity.
I saw a sample of the Gurkha Ninja today. As you can see, I have posted a picture of it. The band has been redesigned – and it looks awesome. This is what I would come to expect from Gurkha.
I'm assuming the Viper is going to get an new band. I haven't seen this as of yet, so this is subject to change.
Finally, the sample in the picture is a Perfecto Vitola of the Ninja. I'll also post more details of this. Unfortunately, the sample is not mine….
Here are the old bands. As you can see – major improvement. As always, if you have more info, shoot me a line….