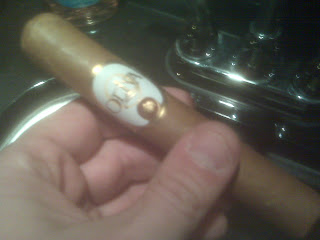 This past Friday, Outland Cigars had a pretty big Oliva Cigars' event, so I managed to pick up a few different Oliva cigars. One of these cigars included a staple of the Oliva family, the Nub Cameroon – which I reviewed recently. I figured it was time to take another look at another Oliva cigar – the Oliva Connecticut Reserve. This cigar is a milder offering by Oliva in terms of strength and body. While its not the most complex Connecticut I've smoked, it does produce good flavor notes.
As with most of my reviews, I like to start off with a review of the composition of the blend:
Wrapper: Ecuadorian-grown Connecticut Shade
Binder: Nicaraguan
Filler: Nicaraguan
The Oliva Connecticut Reserve is available in 6 sizes:
Churchill: 7.0 x 50
Double Toro: 6.0 x 60
Lonsdale: 6.5 x 44
Robusto: 5.0 x 50
Toro: 6.0 x 50
Torpedo: 6.5 x 52
A note on the construction of this cigar, this is one heck of a well-constructed cigar. The wrapper and cap are very smooth and are assembled flawlessly on this cigar. I've seen a lot of places describe this wrapper "smooth as silk" and you really can't argue this one. As you will read on, this reflects in the cigar experience.
For this cigar experience, I opted to put a punch in the beautiful cap, toasted the foot and then began to take my initial draws.
A lot of the initial draws I got from this cigar were salt tones. This reminded me of the flavors produced by San Vincente Nicaraguan tobacco, so I began to wonder if there were any in the binder. As with most salt blasts I get at the start of a smoke (typically with San Vincente). The flavor notes soon transitioned to cream and wood. Typically when I've hit flavor tones like this, they usually end up transitioning to all wood, but this was not the case with the Oliva Connecticut. As the cigar progresses, I noticed an increase in the cream.
In the second half of this cigar, I noticed the emergence of some mild cinnamon tones layered over the cream. There also were some wood notes remaining, but they are not in the forefront. As I hit the last third of the smoke, I did detect some mild cedar spices. The cigar had a nice cool and firm finish. As smooth as this cigar looked was as smooth as it smoked.
From a strength standpoint this cigar is not going to kick you over. I would categorize this starting out as mild strength, but it does transition into that mild to medium strength category for a good chunk of the smoke. For body, this was also in the mild to medium category in terms of the flavor notes. In the second half – particularly when the cinnamon and cedar tones emerge, it does move closer to the medium range, but doesn't quite reach it.
The burn and draw were both excellent on this cigar. This is an outstanding reflection of the quality of the construction of this cigar.
I mentioned up front there are some Connecticut Shade cigars that I feel are more complex and offer more in body – namely the El Primer de Mundo and the San Lotano Connecticut. Yet, the Oliva Connecticut Reserve was still a satisfying cigar experience. Overall, the Oliva Connecticut Reserve is one of those cigars that I categorize one of two ways: 1) "Morning Smoke" – namely you are looking for something flavorful, but not overpowering in the morning; 2) "Novice Smoke" – namely you want to get someone started with a cigar – again flavorful and not overpowering. As I'm surprised I didn't have this cigar on my radar in either category, but in both cases its worth checking out.
Burn: Excellent
Draw: Excellent
Strength: Mild to Medium (Mild early on)
Body: Mild to Medium
Assessment: Nice to Have