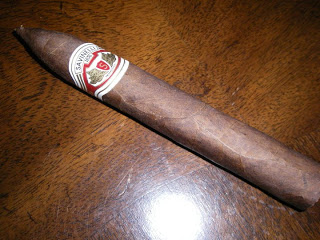 When the name Savinelli comes to mind, the first thing that will usually pop into a Tobacco Enthusiast's head is pipes. Savinelli has been making pipes since 1876 and today they are still considered some of the best pipes on the marketplace. In 1994, Savinelli entered the cigar arena. A few months ago, I sampled the Nording cigar. This was a cigar blended by Rocky Patel to honor world renowed pipe-maker Erik Nording. Being that Savinelli's business is the pipe industry, they teamed up with La Aurora, Tabacalera Oliva, Tabacalera Fuente, and Tabacalera Placencia to make their cigars. While I was somewhat disappointed with what Rocky Patel did with the Nording, I have not been disappointed by what I have seen by Savinelli – in particular their Savinelli Nicaragua Reserve. The result is a nice cigar that might be floating under the radar in a lot of humidors.
My buddy Scott was kind enough to give me the sample I reviewed today. He's been a great friend as well as a mentor to me when it comes to cigars. He seems to know what matches my pallet. The Nicaragua Reserve is a beautiful cigar. It is a box-pressed all-Nicaraguan Puro, therefore there are no surprises when it comes to the composition of the blend:
Wrapper: Habano 2000 Corojo (Nicaragua)
Binder: Nicaragua
Filler: Nicaragua
The Savinelli Nicaragua Reserve is available in six sizes – all box-press:
Corona: 5.5 x 44
Corona Gorda: 6 5/8 x 46
Robusto: 5 x 52
Toro: 6 x 50
Churchill: 7 x 52
Torpedo 6 1/2 x 54
For this cigar experience, I sampled the Torpedo (which I was glad considering I love a bigger ring gauge on my cigar). It was a straight cut into the tip of the torpedo, and then I started the smoke. Scott told me this cigar had been aging for sometime, so this must be factored into this particular review. (Yes, this is the first time I smoked it, but feel I have enough to assess this particular smoke).
Early on the main flavor is notes of coffee. I did get some salt notes early on, but coffee is soon the main flavor note that emerges. By the 1/3 point of the smoke, I noticed the coffee notes become richer – more like an espresso-like syrup. This wasn't a sweet taste, but the richness you would come to expect from espresso-flavor. Around the halfway point, I detected some spice notes. The spice notes increased with the second half of the smoke. The spice took on a good cross between cedar and black pepper. By the last third of the cigar, this cigar almost had some Pepin-like spice/pepper qualities. While the finish was soft and warm, it was not harsh – and there definitely was a nice kick at the end of this.
From a strength profile, this cigar will not knock you out – it is a solid medium in this category. The flavor notes have some depth,, and I have them on the upper end of the Medium to Full category. I got a decent burn and a decent draw, but remember this cigar was aged for a while – and then I had this in my travel humidor for a week.
Overall, this is a cigar that I would have again. While it is not a highly complex cigar, it still has enough complexity and flavor notes to make me want to smoke this one again.
Burn: Good
Draw: Good
Strength: Medium
Body: Medium to Full
Complexity: Medium
Assessment: Nice to Have