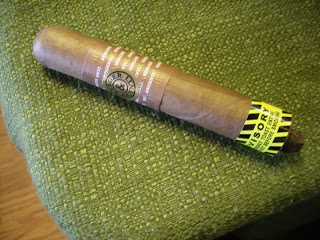 My buddy Stace and I took a roadtrip to Tobacco World in Marietta Georgia for a Berger & Argenti event.  Berger & Argenti is a company that has been around since 2009.  It was a collaborative effort formed by Enrique Berger of Tabacalera Esteli and Michael and Albert Argenti.   Berger & Argenti, has quickly been getting a lot of attention for several innovative cigars, so we figured this more than justified a road trip from North Carolina.   The fun part is now sharing some of the experiences with the cigars.   The first of these cigars I sampled was the Berger & Argenti Entubar.   This is a quality, old-school cigar that showcases these innovations that Berger & Argenti.
On first glance, you might think these are one of the "gimmicky cigars made cool", but while this is one cool stick, it couldn't be further from gimicky.  This is innovation – a little old and a little new.  The first thing is that this cigar uses an old cuban rolling technique known as entobar.  This was typically accomplished by rolling of each tobacco leaf in a tube prior to bunching the tobaccos to roll the finished product.  This is a more time consuming and costly technique, so it is why it is not as common anymore.  A description of this is found on the Berger and Argenti web-site.
Each deeply aged Nicaraguan filler leaf is carefully rolled into itself creating delicate 'scrolls' of rich, flavorful tobacco. This age-old method ensures open chambers of air flow from the foot to the head of the cigar, creating a superior draw. 
However the Berger & Argenti Entobar adds another wists.  The first is that a group of ligero filler is bunched independently.   It is then rebunched into the center of the entobar rolled filler.  This creates as per the Berger and Argenti web-site a "ligero 'channel' ranges the full length of the cigar and extends ¼" beyond the finished trimmed foot, creating a startlingly unique 'fuse like' appearance"
While this might seem gimicky, it does create some innovation for the flavor profile, draw, and burn.  Again as per the web-site, it "virtually assures a perfect conical burn, long white ash and a rich, complex mosaic of flavors directly focused to the aficionado's palate"  So without further adieu, let's analyze this cigar and the experience with the smoke.
Berger & Argenti co-Founder Al Argenti (L) and Cigar Coop (R)
Blend Profile
Obviously for such an interesting an innovative design for a cigar, the blend intrigued me
Wrapper: Ecuadorian grown stalk cut Connecticut 'Desflorado' leaf.
Binder: Nicaraguan
Filler: Nicaraguan, Dominican (Jalapa Ligero in center)
Yes, you read the wrapper description correctly.  This is one of the rare cigars that uses the Stalk-Cut tobacco technique.  For stalk cut tobacco, the entire leaf is cut – including the stalk.   When the leaf is hung to dry, it is hung to dry from the stalk.  This was the same thing that was done on Liga Privada's T52 wrapper – my 2009 Cigar of the Year.
Vitolas Available
This cigar is available in 5 vitolas.
Corona Macho: 4 5/8 x 48
Robusto: 5 3/8  x 54
Double Corona: 7 5/8 x 54
Torpedo: 6 7/8  x 56
Gran Toro: 6 5/8 x 64
Now it is important to know for all five of these vitolas, the ligero center is the same size.  It is my assumption this is going to have a significant impact on the flavor profiles depending on the vitola.   For this review, I will strictly look at the Robusto, but will follow-up with some of the other vitolas at a later date.
Preparation for the Cigar Experience
For this cigar experience.  I put a straight cut into the cap of the Robusto.  My prelight draws were primarily in the wood arena with some hints of nut.   Before I toasted the cigar, I removed a band at the foot.  The footer band serves as a "Advisory" label instructing one to toast the entire not (i.e. not just the protruding ligero leaf.  While it serves as a warning, I also found it gave the cigar some charm.  Therefore, I followed the instructions and went forward with the cigar experience.
Flavor Profile
Overall this is not a very complex cigar. The initial flavors gave me some notes of black pepper.  They were not what I would term a "Don Pepin pepper blast", but just enough to get some spice.  For the most part I picked up a lot of wood and nut notes throughout the smoke.  There are also a subtle cedar sweetness present throughout this smoke.  The flavors were consistent and the entire smoke was smooth.   This cigar also had an old world feel – i.e. no exotic flavor notes.  In some ways, I did think I was smoking a Cuban cigar.  I was obviously picking up a higher ratio of Ligero with this cigar as opposed to some of the other vitolas, yet there was not one time this was a harsh smoke.  Even at the end, I got an amazing nub that was both cool and firm.  Overall, I would have loved a little more complexity as this is what I look for in a flavor profile, but the notes the cigar did deliver – it delivered well.
Burn and Draw
The ligero center "cigar within a cigar" concept truly lived up to its billing when it came to burn and draw.  The cigar scored pretty close to perfect in both categories.   It was a pleasure to draw from this cigar.  Not only was the burn razor sharp, but it burned at the right rate and temperature.
Strength and Body
This is not a cigar that will kick you over.  It is a classic medium strength cigar.  Again while there were no exotic flavor notes, the notes I did detect were pronounced.  This was a classic medium to full bodied smoke.
Final Thoughts
Part of me did want some unique flavor notes and flavor transitions as this was a very unique cigar.   The one thing I did compare it to my notes I've taken on Cuban cigars,I smoked and the Entubar did smoke like one.  My next step is to try some of the other vitolas and see how they stack up..  Overall, a positive experience.   If you like an old-style classic flavor to your cigar, this one is definitely worth reaching for.
Summary
Burn: Excellent
Draw: Excellent
Complexity: Low
Strength: Medium
Body: Medium to Full
Assessment: Nice to Have