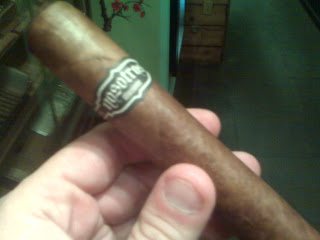 The story of the Illusione Nosotros is one that does not have a happy ending.  This project started out as a cigar "dream team" collaboration by Illusione's Dion Giolito and Drew Estate's Jonathan Drew.   The Nosotros would be launched under the Illusione brand and began to surface in early 2010.  With these two cigar titans involved, this was one of the most anticipated releases of the year.  The cigar ended up being a disappointment to many.   My initial sample I tried back in 2010 did not wow me either.   Based on that experience, and from talking to several people who know about this cigar, I was not surprised when the project was discontinued.  Because I had only one sample and my gut feeling was the cigar was not ready when I smoked it, I opted to defer turning my notes on the cigar into an assessment.   Well on a recent trip to Chicagoland, I walked into Cigar King in Skokie, Illinois and to my surprise, I saw some on the shelves.   Well, I decided that I needed to give this cigar another chance.   Sometimes a cigar needs a second smoke with some age.  After smoking another Nosotros, my disappointment was no longer with the cigar, but with the fact that we probably have seen the last of this cigar.
There were rumors second batch of Nosotros cigars that showed up at Outlaw Cigar in Kansas City.  I admit, I don't know much about that second batch.  I was told by several people that indeed Cigar King had the first batch of the Nosotros.
Blend Profile
The blend of this cigar always intrigued me.   Here is the profile:
Wrapper: Nicaraguan Corojo 99
Binder: Connecticut Habano
Filler: Nicaraguan
Vitolas Available
I went to CigarCyclopedia and these are the vitolas that were listed for the Nosotros.
Corona: 4 x 46
Corona Larga: 6 x 46
Robusto: 5  x 50
Robusto Larga: 5½ x 54
Toro: 6 x 52
660:  6 x 60
Torpedo:  6½ x 54
Churchill: 7 x 48
Preparation for the Cigar Experience
For this cigar experience, I went for my old standby – the 6 x 60 660 vitola.  I know there are a lot of folks who would not recommend that size, but this is what I had last time – and I am a fan of this size.  The nice folks at Cigar King put a straight cut into the cigar for me.   The prelight draw provided a sweetness that reminded me of mixed fruit as well as notes of wood.  It was then on to lighting the cigar myself and seeing what this experience would be.
Flavor Profile
One problem I had the last time is I felt the flavors were just not robust and complex.    This time around, I did get robust flavors, so no issue here.  As for complexity, this cigar isn't going to wow you in that category.
The mixed fruit notes that I got on the pre-light draw were present on the initial draw.   There is some pepper that comes up early as well.   The sweetness then morphs to more of a raisin-like sweetness early on and that's the way the sweetness held for the majority of the smoke.   The spice notes were omnipresent as well.   In the second half, the spice definitely kicks it up a notch.  The pepper seemed to be dominant particularly in the last third.   I actually thought the pepper seemed was a mix of red and white pepper toward the end.
The finish to the cigar was a little harsh.  The nub was soft and remained cool.  I realize that with a long smoke like a 6 x 60, this can produce a harsh finish because it burns so long – and I smoked this a good 1:45 minutes.
Strength and Body
Both the strength and body of the Nosotros were definitely in the full category.   The strength of this cigar will really hit you toward the end.  The body of this cigar has great depth with the flavor notes.  This was a nice change from the sample I had last year.  Dion's been on the record saying "richness and power that really sneaks up on you" and I couldn't agree more.
Burn and Draw
With my experience last year, this was perhaps the most disappointing area as I gave it poor grades.   The good news is that there is improvement on this front.   The cigar still required several touch-ups and did canoe a couple of times.  The burn rate and temperature were fine.   I still can't go above "Fair" for a burn rating.   The draw was very good in this area – an excellent in this category.
Final Thoughts
Age is sometimes a cigar's best friend.   There was a major improvement in the cigar experience when when comparing this one to last year.   The burn and lack of complexity were still weak points, but I still thought it was better than it was last year.   I would definitely want to have this cigar again – and probably would tell folks who like a powerful smoke to give this one a try.
Summary
Draw: Excellent
Burn: Fair
Complexity: Low
Strength: Full
Body: Full
Assessment: Nice to Have
Disclaimer:  The cigars for this experience described in this assessment was purchased at Cigar King in Skokie, Illinois.