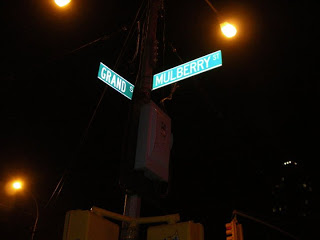 In general, the direction I want to take this web-site is to be a hard-core cigar web-site for cigar enthusiasts. From time to time, I do think there needs to be a break. Today is one of those times and I thought Post 300 would be one of them. This past weekend, I made a return to the place where it all began for me – Florio's in New York's Little Italy. Florio's was my cigar club in New York City for several years. This visit particularly held a special meaning because it was my first visit since the death of Florio's owner, Larry Amoruso. To make this extra special, I was returning to Florio's with Outland Cigars' Tom Kakadelis – the owner of Outland Cigars and someone who has become a true mentor to me in this industry.
A little background. My buddy Larry C (not Larry Amoruso) and I worked on a sales team in New York City. Larry C and I stumbled upon Florio's back in 2006 while walking through Little Italy. At the time, I was not smoking cigars at all, but Larry C was. Florio's is a wonderful Italian Restaurant in the heart of Little Italy – Mulberry and Grand Street. Florio's also contained a cigar store called Three Little Indians – all run by Larry Amoruso. Larry C became intrigued by the place as it was one of the few places where you could smoke in the restaurant left in New York. Although I wasn't enjoying cigars, I loved going there with Larry C – and the people who worked there (and still work there) made this a special place to go.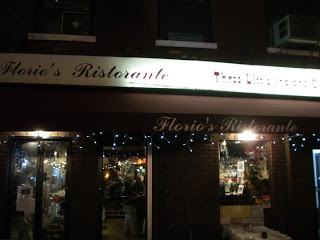 Florio's became a regular stop for us for lunch. Larry C would grab a cigar there. The restaurant had wireless there, so when it didn't make sense to go back to the office, we would set up shop there. We got to know the staff there, and a true family atmosphere existed there. The camaraderie with the staff was second to none.
However, the tyranny of Mayor Mike Bloomberg soon took its toll on Florio's in terms of allowing smoking in the restaurant. Larry Amoruso went to city hall many times to battle for his right and the rights of all of the customers to allow smoking, but eventually this was a battle he could not win. Therefore, Larry decided to open a the Three Little Indians Cigar Lounge upstairs from Florio's – and separate from the restaurant. Since Larry C and I enjoyed the camaraderie of Florio's, we became charter members.
Eventually I relocated to North Carolina, and my days as a regular at Florio's came to an end. I did keep my membership during the period I was "in between" states. It was during this time that I got hooked on cigars. As I was getting situated in the Carolinas, I realized I missed the Cigar Scene. I then started frequenting Cigar Lounges in North Carolina. I then realized I couldn't go there and not enjoy a good Cigar. Once I started enjoying a Cigar, I was hooked. At the same time, I was also beginning to enjoy some cigars at Florio's in the last days of my membership. The two Larrys – Larry Amoruso and Larry C did a lot to teach me about cigars – including even how to smoke one correctly.
This past fall, Larry Amoruso became seriously ill. It was this past January that he passed away. I was devastated. I knew my return to Florio's would be emotional, I didn't realize how emotional. I hugged many of the old staff members and yes there were some tears. I didn't get to see Tony who ran the cigar humidor downstairs, but I wish I could have.
While Larry Amoruso was not there, his spirit was truly present. The restaurant was packed downstairs – still with the Sinatra-esque music that Larry always enjoyed. The upstairs was still filled with all of Larry's military and police memorabilia. Larry loved knickknacks and the upstairs was full of them. It was nice to see everything as Larry had it. The one difference was the picture that paid tribute to the man who built something special.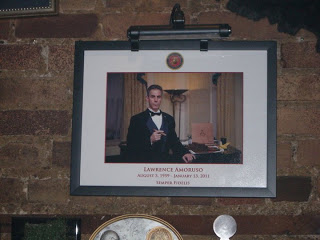 The picture in memorandum of Larry Amoruso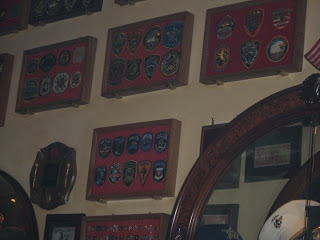 Military and Police memorabilia – a staple of Florio's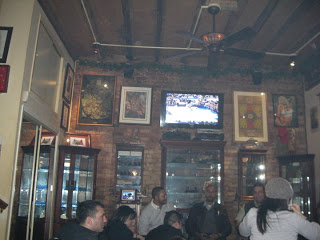 Another view of Florios Lounge – packed with cigar enthusiasts
One cigar that I always looked forward to having was a barberpole cigar that was the house cigar of Florio's. This is a beautiful barberpole with a maduro and ecuadorian shade wrapper. The age it with some Grand Marnier – resulting in a wonderful medium to full strength, full-bodied cigar that had hints of the Grand Marnier orange taste in it. The cigar does not have an infused flavor, but almost a natural sweetness from that Grand Marnier. At some point, I will write an assessment on this, but for now it was simply a night to enjoy it.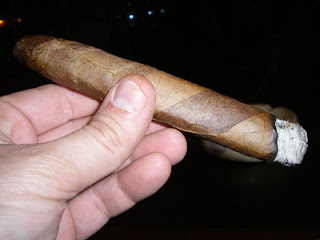 The Florio's House Barberpole
To know Larry Amoruso is to know that Florio's was a reflection of his spirit. He had a vision and dream to build a place where people can have a good time and enjoy a good cigar. Larry had a passion for life as great as anyone. This reflected in his battles with the NYC Pleasure Police as well as his love of country. When military people would visit his place, Larry would roll out the red carpet and treat them like gold.
My return to Florio's made me realize how much I miss the place. I plan on making an effort to try to return to Florio's from time to time. More importantly, if you are looking for a good meal and then a place to enjoy a cigar, Florio's would be a place I'd highly recommend. It truly embodies the spirit and specialness of the cigar scene.
Florio's
192 Grand St
New York, NY 10013
(212) 226-7610
I miss ya Larry Amoruso…..