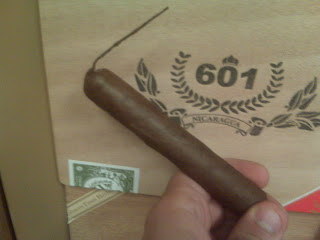 La Bomba (pic in front of an 601 Red box)
Every year, there are a few cigars that are some of the most anticipated new releases for the year. In 2011, there is little doubt that EO Brands' 601 La Bomba falls into that category. For the past few months, I've been following this cigar rather closely. Much of the reason behind this anticipation is that there has not been a major release of an EO Brands' 601 since Rocky Patel Premium Cigars had acquired EO Brands. A little over a month ago, Erik Espinosa (the "E" in "EO" brands) sent me a couple of pre-release samples hot off the press. I've had these aging since I've gotten them. With a targeted release date of 5/11/11 to the retailers, I waited right up until the day before to sample this. The great news is that I am very pleased with the outcome. As with all pre-release cigars that are discussed (via Pre-Review) on this web-site, a formal assessment rating will not be done. However, I think there is enough information to see where this cigar's place in the market will be.


Blend Profile
EO Brands has opted not to discuss the blend characteristics at this time, therefore it's "unknowns" in all of the categories. While this might be frustrating to some, I respect this. I think sometimes (myself included), we do get a little wrapped up in this, so its fun to have some mystery. Right now, I'm not going to venture to guess, but perhaps in the future I will.
Wrapper: Unknown
Binder: Unknown
Filler: Unknown


Vitolas Available
As mentioned in one of the previews done, La Bomba is available in 3 vitolas. Each vitola has an interesting feature – a long "firecracker fuse" pigtail. If you look at the picture above, you can see it.
Corona: 5-1/2 x 46
Robusto: 5 x 52
Toro: 6 x 50
Preparation for the Cigar Experience
For this cigar experience, I selected the Corona vitola. I did not pull the firecracker pigtail off. I gently placed a straight cut into the beautiful wrapper – preserving the pigtail. The wrapper was oily, but this might be due to aging (time will tell once its a production cigar). The pre-light draw definitely gave me some chocolate notes. I was expected some spice (namely due to the name), but did not get it. It was then on to light this cigar and enjoy.


Flavor Profile
On the initial draw, I continued to get the chocolate notes I had during the pre-light draws. However, I also was treated to an interesting combination of some cherry sweetness and a hint of pepper. One thing that was consistent with this cigar is that it was not a pepper bomb. The La Bomba did a great job at releasing just enough spice to give the cigar some zip.
Soon enough, some leather notes emerge and by about 15% into the smoke, the leather notes moved to the forefront. The interesting thing is the background pepper notes – it complements the leather very nicely. Around the midway point of this cigar, the chocolate notes soon emerged again and become a main flavor note with the cigar. The pepper notes also took a step up in intensity, but do not overwhelm.
Overall the flavor profile of this cigar is "old school" and I like that. I also liked how the flavors were robust and did not have any "green" whatsoever despite being a 1 month+ old sample. The nub was perfect – a nice cool and firm nub with no harsh flavors whatsoever.
Burn and Draw
Sometimes with fresh samples, I worry about this category that I might not do it justice. Not only was I surprised by the flavor of La Bomba, but I was blown away by the burn and draw. Razor sharp burn that burned at the right rate and temperature. One to two touch-ups maximum were done during this smoke. The ash was a beautiful white ash that was nice and tight. The draw was flawless.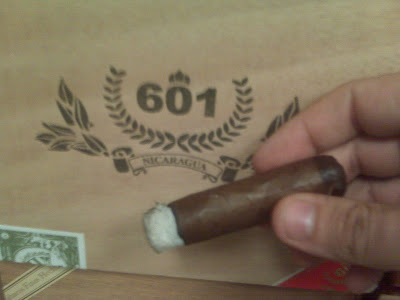 Strength and Body
The name La Bomba has an implication that this is a full strength and full-bodied cigar – and it is. Is this the strongest cigar on the market? Absolutely not. It will provide a nice nicotine kick though. As for the flavors, they had depth and the makings of a great blend. This is a good example of a cigar that balances its strength with its flavor.


Final Thoughts
La Bomba lived up to the hype and was worth the wait. I cannot wait for these to hit the retailers as this is definitely a wish-list item for myself. I can see myself wanting a box of these. With even more age, I expect this to be even better. This is a cigar that probably is not for a novice enthusiast, but full strength/full body enthusiasts will love this cigar.
Summary
Draw: Excellent
Burn: Excellent
Complexity: Low
Strength: Full
Body: Full
Disclaimer: The cigar for this assessment was provided to me as a sample by Erik Espinosa of EO Brands.