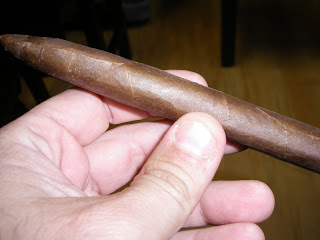 My Father Cigars' El Picador
The My Father El Picador was not a cigar I had heard of. It turns out this is a retail exclusive cigar to Empire Cigars in Raleigh, North Carolina. Retail exclusive cigars are not new to Don Pepin Garcia as he has released many with his collaborator Pete Johnson of Tatuaje Cigars. For the El Picador, Garcia releases this under his My Father Cigar company. It is a simple cigar as it doesn't have a band and it is rolled "ice pick" style (i.e. it is shaped like an ice pick). Despite its small Corona-sized vitola, this cigar lives up to high standards set by Don Pepin Garcia and much of his My Father line.
The ice pick cigar is not something that is unique to this Pepin vitola. With the El Picador, many have called this Don Pepin's version of Litto Gomez's La Flor Dominicana Cheroot. The Cheroots is also sold at Empire Cigars and the two cigars look very similar in that they are unbanded icepick vitolas. The difference is that the Cheroot has a much more toothy wrapper and is much stronger in strength. I've included a picture below to compare against. I'll review the Cheroot shortly.
La Flor Dominicana Cheroot
In addition, La Gloria Cubana just released its El Perrito War of Flavors. Without further adieu, let's take a closer look at the El Picador.
Blend Profile
I spoke to Hal Rubin, the owner of Empire Cigars and he told me that this is an all Nicaraguan Puro. However, it is worth noting that the web-site lists this as Dominican. Given that is not Pepin's style to make a Dominican Puro, I'm going to take the owner at his word.
Wrapper: Nicaraguan
Binder: Nicaraguan
Filler: Nicaraguan
Vitolas Available
This cigar is available in a single vitola – the "ice pick" style 5 x 40.
Preparation for the Cigar Experience
I defaulted to a straight cut given the torpedo tip on this cigar. The prelight draw provided some notes of chocolate. It was then on to toast the foot and enjoy this cigar.


Flavor Profile
The initial draw gave me a very interesting flavor note – notes of honey that were not really on the sweet side. I don't know if I can explain the flavor any better than that (after all isn't unsweetened honey an oxymoron). It doesn't take long for the chocolate notes I got on the dry draw to resurface. There were also notes of pepper, but it did seem like a short delay for the signature Pepin pepper blast (it does surface about 3 to 5 percent into the smoke).
The flavor profile of chocolate, pepper, and that "not sweet honey" held for a while. By the 40 percent point of the El Picador much of the pepper had faded and was replaced by a more generic earth note. The honey notes then get a tad bit sweeter and then hold for the remainder of the smoke. The El Picador did not finish harsh and it provided a soft, but cool nub.


Burn and Draw
Surpringly, for such a small cigar, I got a nice slow smoke. I wish I set a stop-watch, but I'm estimating around 45 minutes. This really allowed me to savor the flavors. The slow burn also did not burn hot and was razor sharp throughout the smoke. Classic Pepin quality as the draw was excellent too. The cigar provided a nice white ash.
Strength and Body
The other ice-pick cigars that I mentioned (Cheroots, El Perrito) are much more on the full side in these categories. This one isn't going to provide a lot of strength – it's going to be right in the middle of the medium range. This cigar will also be medium from a body perspective – providing for a nice smooth smoke.
Final Thoughts
If there is one area that the El Picador has room for improvement, it's in the area of complexity. While the El Picador is not a complex smoke, it is worth noting that neither is the core My Father cigar. Still this little smoke was an enjoyable smoke and at just under $6.00 from Empire Cigars, it is worth checking out. I'd definitely pick on of these up again if I return to Empire Cigars.
Summary
Draw: Excellent
Burn: Excellent
Complexity: Low
Strength: Medium
Body: Medium
Assessment: Nice to Have
Disclaimer: The cigar for this assessment was purchased from Empire Cigars in Raleigh, NC