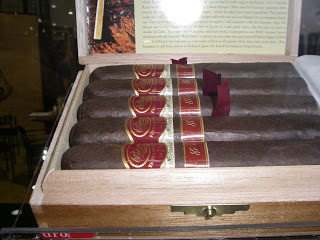 Padron Family Reserve 85th
So I will preface this by saying I don't have too much more to say about this release other than the Maduro was on display at the 2011 IPCPR.
The big news essentially is that this cigar – which was being known as the Padron Family Reserve 47th Anniversary has been changed to the Padron Family Reserve 85th. The reason is because 2011 marks the 85th birthday of the patriarch of the Padron family – Jose O Padron. This is a similar move that was done with the Avo Limited Edition 2011 85th Anniversary – meant to coincide with Avo Uvezian's 85th birthday.
The Family Reserve cigars have been my favorites of the Padron line. Given that the Padron Family Reserve 85th was so stunning looking – and the branding has changed a bit from what was expected, I figured this would provide a little insight into this. Stay tuned as more details emerge.
Neptune Cigars has posted on their Facebook page that they expect to have these cigars to be available in two weeks following their July 20th post.
Update (9/8/11): I posted more information here. As of this date, the cigar still has yet to me released, but I'm hearing a timeframe of this month.