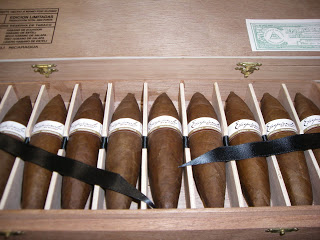 Elogio Excepcionales
When I introduced the 2011 IPCPR Series here, I mentioned I wanted to put a lot of focus on the actual cigars. It was my intention to provide a technical debrief of the cigars being showcased – whether previewing or reviewing them. While much of the focus is around the many new releases, there is a lot of existing cigars that are being showcased. Therefore, this brings me to the Elogio Excepcionales. This is a true Indie limited release cigar released by a company called Elogio. The story of Elogio is worth mentioning here – with a focus on this extremely special cigar.
My first exposure with Elogio comes from the 2010 IPCPR. My buddy Stace, who works with me to seek out new cigars had found these guys last year. He fell in love with this cigar and over the past year, it seems like everyone who has tried a cigar from Elogio has become a fan. They make two solid cigars – the Elogio LSV and the Elogio Habano. Earlier this year, we learned that a third blend was released – the Elogio Exceptionales. This is a true limited release as only 3000 cigars are being produced and being made available to Elogio's top tier customers. At IPCPR, I got to see this blend in person.
Elogio is the true definition of an Indie cigar. The cigars are made in Nicaragua and are blended by Carlos Pereda Robaina. If you recognize the Robaina name – it is the same one. Carlos is the grandson of renowned grower and blender Alejandro Robaina. The unique thing about Elogio is that they are involved in the entire cigar lifecycle – from seed to store. As a result, their cigars are limited in availability. This is the case of the Excepcionales.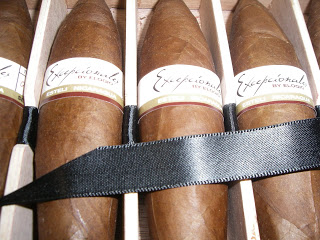 Elogio Excepcionales (Close Up)
The Excepcionales is a beautiful big ring gauge perfecto vitola. The blend is as follows:
Wrapper; Ecuadorian Habano
Binder: Esteli Habano
Filler: Esteli Ligero, Jalapa Habano Viso, Jalapa Habano Seca
I was extremely impressed to view this cigars. It was also great to meet the people behind these cigars – Nabil and Roseline Sabbah. I will be sampling this in the near future, so I will have more information then.