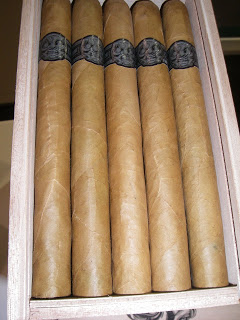 Room 101 Connecticut (615 vitola)
One of the highlights of these year's show was paying a visit to the Room 101 "room" in the Davidoff "booth". The Room 101 brand was founded by Matt Booth who gained fame for making jewelry, accessories, and clothing for the Hollywood scene. Booth soon extended his "lifestyle" to include a line of premium cigars. It is Camacho (who was acquired by Davidoff) who blends his cigars for him. The idea was to have a cigar line to reflect the Hollywood scene that the Room 101 had become known for. I've been fortunate enough to get to know Matt Booth as a friend. He's not only one of the most personable guys in the business, but he has a great knowledge and passion for this industry. I was well aware of his upcoming Room 101 Namakubi cigar. I was caught by surprise by his new Room 101 Connecticut. I did get a chance to sample this cigar and without giving too much away, this was one of the highlights of the IPCPR show.
I'll post a more detailed assessment in the near future, but here is what I was able to learn about this new blend.
Blend Profile
Wrapper: Connecticut Shade (Ecuador)
Binder: Honduras Corojo
Filler: Honduras, Dominican Republic
The secret that Booth seemed very proud of was leveraging a Connecticut Shade wrapper from Davidoff.
Vitolas Available
The Room 101 Connecticut line will have the same vitolas at the core Room 101 line with a couple of changes. The 702 (11/18) and 323 (Toro) vitolas are not being made in this line. Booth has added a 615 (Churchill) to this blend. After my visit to the Booth, I realized that 615 was an area code for Nashville, Tennessee (Booth names his vitolas after area codes).
One hint I can throw out with blend – this is one awesome Connecticut cigar. This cigar literally "dances with flavors". Click here for my detailed assessment on this one.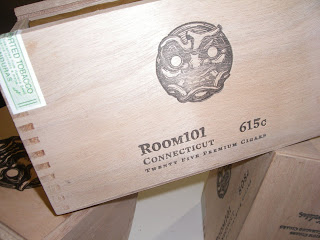 Packaging of the new Room 101 Connecticut 615 Vitola