This is post 400 on Cigar Coop. What better way to have a post where the cigar community gives back as they always do. Here is a great press release from Torano Family Cigars.
Imagine attached of Carlos "Llaca" Torano handing box to Dwayne Wade

FOR IMMEDIATE RELEASE
TORAÑO FAMILY CIGAR COMPANY TEAMS UP WITH DWAYNE WADE TO HELP KIDS
(Miami, FL) July 14, 2011— Torano Family Cigar Co. had the honor of being asked to be the official cigar partner at "The Party with a Purpose" event hosted by Miami Heat superstar Dwayne Wade at the Seminole Hard Rock Hotel &Casino to benefit the Kids2Camp fund.
Taking place on Wednesday July 13, 2011 the red carpet event was a spectacular affair where event goers mixed and mingled with NBA Champion Dwayne Wade and other athletes to include current Miami Dolphin wide receivers Devon Bess and Brian Hartline. Also in attendance was former Miami Dolphin tight end and current voice of the Miami Dolphins Joe Rose. The event which took place poolside at the Hard Rock Hotel featured cocktails and pork cooked in "La Caja China" which is a traditionally Cuban way of roasting pork. Continuing with Cuban tradition Torano Family Cigar Co. was well represented as Master Roller Felipe Sosa and Carlos "Llaca" Torano were in attendance as they cut and lit some of Torano's finest cigars for event goers.
Dwayne Wade stood on stage to thank sponsors and event guests for helping raise awareness and funds for the Kids2Camp fund which provides scholarships to disadvantaged or disabled youth as well as the opportunity to attend camps. As he was finishing his speech the "voice" of the Miami Dolphins Joe Rose announced that the Torano Family had a special surprise for Wade as Carlos Llaca-Torano presented Wade with a box of Limited Edition Carlos Torano 2008 Tribute Churchill Cigars. A gracious Dwayne Wade thanked Carlos as he opened the box with excitement.
President of Torano Family Cigar Co. Charlie Torano was unable to attend the event but stated, "As a cigar company in Miami we are proud to take part in functions to help the less fortunate in our home city. We felt privileged to be asked to take part in such a special event".
A leader in the cigar industry, Torano Family Cigar Company is a four generation company currently based in Miami, FL. It enjoys a rich heritage and history in tobacco growing and manufacturing. For more information:
www.torano.com
. Please also follow Torano on Facebook: Torano A family Cigar Company or on Twitter: @TORANOFAMCIGARS.
Creativas Group Inc. provides public relations and marketing counsel to South Florida-based businesses, nationally recognized special events and leading non-profit organizations. For more information, please log onto www.creativasgroup.com or email info@creativasgroup.com.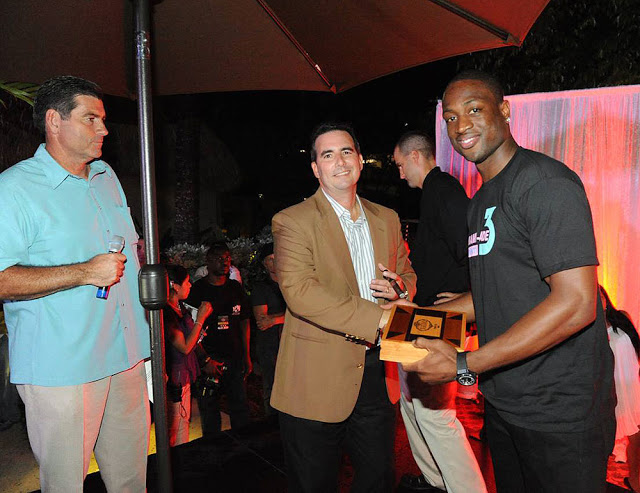 Carlos llaca Torano and Dwayne Wade
Thoughts by Cigar Coop
The cigar community never gives credit when it comes to giving back to the community. Here is another prime example of a cigar company stepping up and helping. This is always great to hear.
Source: This press release was sent by Creativas Group Public Relations, a group that handles public relations for Torano Family Cigars.