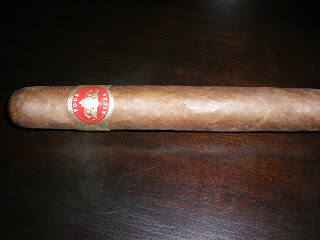 Crowned Heads Four Kicks
The anticipation for the release of the first cigar by Crowned Heads was perhaps as unique as any I have ever seen. Namely, I cannot remember an initial release from a new cigar company getting as much attention as the Crowned Heads' debut. Much of the reason for this is the people behind this company. The company was founded by Jon Huber, the former Director of Lifestyle Marketing for CAO. Joining Huber are three other former CAO employees: Mike Conder, formerly CAO.'s senior VP of marketing; Michael Trebing, who served as CAO.'s creative media manager, and Nancy Heathman, who was CAO.'s graphic designer. During his time at CAO, Huber established a solid reputation in the cigar business. The first release by Crowned Heads is a cigar called "Four Kicks". It has just begun to make its way into select retailers. I've had a chance to sample the blend, and overall I found it to be a satisfactory cigar smoking experience that can appeal to a wide range of cigar enthusiasts.
The name "Four Kicks" is taken from a song from the band "Kings of Leon" (a band from Huber's hometown of Nashville, Tennessee). The song has a theme of rebellion and in a way, the name fits with the vision of Crowned Heads. Following the acquisition of CAO by General Cigars, Huber and company were caught in the corporate world of spreadsheets and powerpoints. The venture of Crowned Heads is in a way a rebellion against the corporate world – i.e. focusing on the cigars themselves in a small company environment. In a way, for folks who have been familiar with Huber's innovative marketing at CAO, Crowned Heads marks a change – back to the simplicity of cigar making. From the appearance of the Four Kicks (picture above), the banding is simple and the wrapper has an old school look.
Crowned Heads selected Ernesto Perez-Carrillo Jr. to blend the Four Kicks cigar. This marks the first time Carrillo has blended a cigar for someone else. From an interview that Carrillo, Huber and Conder had with Cigar Dave on 8/6/11, it was clear the Huber and company had a vision for the flavor profile and strength. They also wanted to use the Habano wrapper and have a product that would provide a well-balanced, complex cigar. Carrillo then went to work to execute on that vision.
Let's break down the Four Kicks cigar and see what it brings to the table. Given this was a debut cigar by a new company, I did not read any pre-release reviews of this cigar (except for what I heard on that Cigar Dave interview). I wanted to sample this cigar and make my own opinion.
Blend Profile
As mentioned above, I do like how the Habano wrapper gives this cigar a very old-school look.
Wrapper: Habano Ecuador
Binder: Nicaragua
Filler: Nicaragua
Vitolas Available
There are four vitolas available. One important note is that this cigar is rolled Entubar style. This involves rolling filler leave into a tube shape – helping to improve the draw.
Corona Gorda: 5 5/8 x 46
Robusto: 5 x 50
Sublime: 6 x 54
Piramide: 6 1/8 x 52
Preparation for the Cigar Experience
For this cigar experience, I sampled the Sublime. I prefer a big ring gauge cigar, this was the perfect size to sample. The pre-light draw was interesting. It had flavors of chocolate, caramel, and some floral notes. The floral notes did catch me a little off-guard. I was pleased with the complexity that dry draw provided, so I was pretty excited to see what was in store once the Four Kicks was lit up.
Flavor Profile
The flavor notes of the dry draw actually continued early on with the smoke of the Four Kicks. The chocolate, caramel, and floral notes were very three-dimensional and each lent qualities into the smoking experience. Around ten percent, these notes were joined by a some pepper spice. This spice was more prominent on the after-draw.
Around 15 percent into the smoking experience, I detected an interesting sweetness. This sweetness resembled sugar cane. The sugar cane and floral notes became the primary flavors with the chocolate, caramel, and pepper in the background. It was at this point, the sugar cane and floral had an interesting fusion – creating a very unique flavor. I'm not the biggest fan of floral flavor notes, but with the Four Kicks I did like how it melded with the sweetness.
Midway through the smoke of the Four Kicks the sugar cane became more of a cinnamon sweetness. The cinnamon and floral notes continued to be a very interesting combination. The second half really showcased these flavors along with the pepper on the afterdraw. The cigar was smooth to the finish. The nub of the Four Kicks was a little soft, but it was cool in temperature.
Burn and Draw
The Four Kicks did require some touch-ups on the burn to keep it burning straight. Keep in mind, these were newly shipped cigars I got, so some more aging my have been needed to stabilize things. The burn rate and burn temperature were ideal. As for the draw, it was a little looser than I prefer. It still was a good draw. I'm not sure if the Entubar rolling contributed to this or not.
Strength and Body
From a strength profile, the Four Kicks is not going to knock you out, yet still has enough power. This is a classic medium strength cigar and will appeal to a wide range of cigar enthusiasts. From a body standpoint, the flavors have depth, but I wouldn't go and say they are deep and bold. This is not a negative – and it is what makes a very good medium-bodied cigar.
Final Thoughts
For a first release by a new company, Crowned Heads did a decent job. Time will tell if it lives up to the pre-release hype. While I did mention this flavor profile was not in my pallet, I can see this appealing to a good number of cigar enthusiasts – both novice and experienced. The future seems bright for this company. While Crowned Heads might have succeeded in getting back to basics from a cigar-making standpoint, I think they still are at the forefront of doing some innovative things.
Summary
Burn: Good
Draw: Good
Complexity: Medium
Strength: Medium
Body: Medium
Assessment: Nice to Have
Source: The cigars for this assessment were gifted to me by a friend.