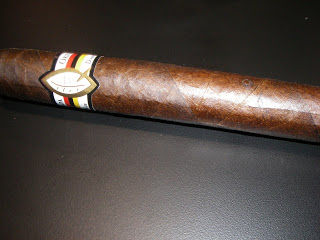 #25: Quesada Oktoberfest
This epic encounter gives us a taste of Germany – via the Dominican Republic. Once again, a legendary family of blenders is responsible for bringing a cigar to us – this time it is the Quesada family.
Coming in at #25 is the Quesada Oktoberfest. The idea behind the Oktoberfest was to find a cigar that can be paired with malt liquor (aka beer). This limited release cigar was released toward the end of the summer – just in time for Octoberfest celebrations. Once retailers received their limited shipments, they flew off the shelves.
The Quesada Oktoberfest is highlighted by a thick, oily wrapper. The cigar itself provided some very unique flavor. While I got some nice notes of pepper and chocolate, there were honey and nut flavors that helped this go very nice with a beer. There are two ring gauges available a 52 ring gauge and 65 ring gauge. I felt the 52 was on the upper-end of medium to full in both strength and body, while the 65 ring gauge took this blend to full-strength and full-bodied.
This was another cigar that I originally assessed as a "Nice to Have" overall. In particular though, the 52 ring gauge is the vitola I recommend. Some inconsistencies on the 65 ring gauge in the end prevented this cigar from going higher in my countdown, but overall this cigar is worthy of being an epic encounter.
Here is the detailed assessment that was done on this cigar shortly after IPCPR 2011.
Blend Profile
Wrapper: Dominican Cibao Valley
Binder: Dominican Republic
Filler: Dominican Cuban Seed Criollo, Olor Viso, Ligero
Vitolas Available
Here are the sizes for the two ring gauges I mention above.
The Bavarian: 5 1/2 x 52
The Uber: 6 x 65