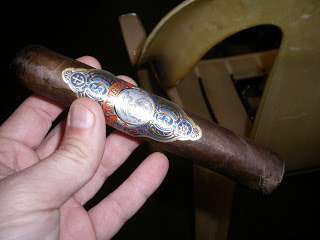 #2 La Sirena – Runner Up 2011 Cigar of the Year
The 2011 Cigar of the Year Countdown has reached the final two Epic Encounters. With that, I present the cigar that was my selection as #2 Cigar of the Year. For this selection, we have another blend from the Garcia family – bringing the total to eight cigars in the Top 30 blended by this family.
Coming in at #2 is the La Sirena by Miami Cigars. First up you might be saying, this was a cigar that came out in 2010. This was one of those cigars that was right on the bubble on whether it would qualify or not. This cigar started appearing last November, but was released slowly nationwide through early 2011. In all reality, this cigar made a big impact in 2011. I sampled this cigar in Chicago back in February. From the moment I first sampled this, I knew that this cigar would be contending for Cigar of the Year – or at a minimum a podium spot.
The La Sirena was released in six vitolas. While I wrote up two assessments during 2011, the one thing that blew me away was how each of the vitolas had their own identity and unique smoking experience. The La Sirena is your classic full strength and full-bodied smoke. The flavors are nothing short of amazing. I've been on the record as saying this is the best cigar ever released by the Garcias – and I stand by that. The flavor profile has a wonderful complexity to it. For the most part, I've picked up notes of classic Garcia pepper as well as notes of leather, cocoa, mocha, coffee, and some very unique sweetness. Along the way I picked up flavors of honey-nut and even hints of sambuca. Some of the vitolas vary a bit on the degrees of the notes, but ultimately this was a home run. I've recommended this cigar to many – and nobody has been disappointed.
Click here for the full assessment done on the King Poseidon vitola. Click here for the full assessment done on the La Sirena Serie A vitola.
Blend Profile
Wrapper: Connecticut Broadleaf Maduro
Binder: Nicaraguan Habano and Nicaraguan Corojo
Filler: Nicaraguan Criollo '98 and Nicaraguan Corojo '96
Vitolas Available
The Series A vitola was released later in 2011, but uses a Nicaraguan Habano wrapper. The other vitolas were released on the initial launch.
Series A: 9.25 x 48
Sea Sprite: 5.5 x 42
The Prince: 5 x 50
Divine: 5.5 x 52 (figurado)
King Poseidon: 6 x 60
Trident: 7 x 50
Recommended Vitola: King Poseidon.
Everyone knows I am a big ring gauge fan and in my opinion, when a blend works in a big ring gauge – it is nothing short of spectacular. For the 6 x 60 King Poseidon vitola, this is nothing short of a home run.