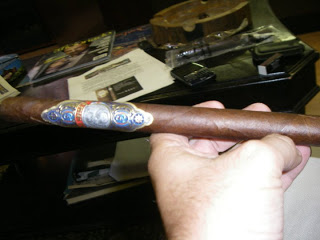 The La Sirena Series A
A few days ago, I was listening to the Dino Costa Radio show on Sirius XM Mad-Dog radio. While Dino is primarily known a sports host, he has been talking cigars. On this show, Dino had Rocky Patel as a guest (and gave Rocky a full hour!). Rocky made a really interesting point comparing the blending of a cigar to a food recipe. This is very true when it comes to wrapper change on a cigar. Earlier this year, I sampled the La Sirena cigar – and this was one of the best cigars I've had this year. While my favorite vitola has been the 6 x 60, I was completely intrigued when I noticed the La Sirena Series A. The Series A vitola is a monster length cigar – 9 1/4 x 48! The Series A also brings another change – using a Nicaraguan Habano wrapper as opposed to a the Connecticut Broadleaf on the core La Sirena line.
La Sirena is distributed my Miami Cigars. This cigar was blended and manufactured by the one and only Don Pepin Garcia at the My Father Cigars' factory in Nicaragua. When I said this was one of the best cigars ever to come out of Miami Cigars, I'll go a step further – it is possibly also one of the best blends to come out of Pepin's My Father factory (and there are a lot of good cigars coming out of that factory). I managed to find the Series A vitola in Tobacco Plaza in Great Neck, NY. The brand ambassador is Arielle Ditkowich, daughter of Danny Ditkowich, the owner of Tobacco Plaza – which is great news for Tobacco Plaza customers as they have a head start on having these cigars in inventory.
Let's take a closer look at the particulars:
Blend Profile
Like its sibling vitolas, the La Sirena Series A contains a healthy dose of Nicaraguan tobacco. The difference is it an all Nicaraguan puro while the core line uses a Connecticut Broadleaf wrapper.
Wrapper: Nicaraguan Habano
Binder: Nicaraguan Habano and Nicaraguan Corojo
Filler: Nicaraguan Criollo '98 and Nicaraguan Corojo '96
Vitolas Available
The Series A is very long – 9.25 x 48 to be exact. It is the only La Sirena currently offered in a Nicaraguan Habano.
Series A: 9.25 x 48
The other offerings in the core La Sirena line use Connecticut Broadleaf:
Sea Sprite: 5.5 x 42
The Prince: 5 x 50
Divine: 5.5 x 52 (figurado)
King Poseidon: 6 x 60
Trident: 7 x 50
The Series A is unique in that under the main La Sirena band exists a second band. The La Sirena cigar is known for its rather large and modern band (see above). I've been a fan of this band as I feel its contemporary and different. Under the Series A, there was a second band. This is more of a traditional old school band – with a touch of modern flair.
Update: 7/13/01: It appears that other La Sirena vitolas now have the second band.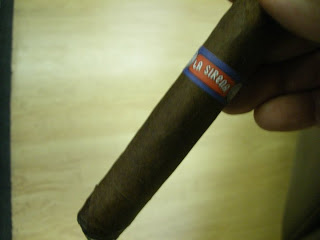 The Second Band of the La Sirena Series A
Preparation for the Cigar Experience
Since I was smoking the 9 1/4 inch Series A, I knew this was going to be a long cigar experience. I placed a straight cut into the cigar. The pre-light draw provided me a combination of cocoa and cedar sweetness. I admit, given this was going to be a long smoke, I didn't spend as much time on the pre-light ritual as I have been lately. Still, the La Sirena Series A satisfied me on the dry draws, so I was excited to light this cigar up.
Flavor Profile
My go to vitola normally in this blend has been the King Poseidon – and I think even the most critical 6 x 60 detractors would agree there are a lot of positives in that vitola for La Sirena. I found the Series A to be a very different smoke than the 6 x 60. For one thing, the Series A seemed less complex than the King Poseidon. I would not categorize this as a negative as there are a lot of positives on the flavor profile of the Series A.
There were some similarities to the King Poseidon in the way the Series A started out – namely I got a start of leather, cocoa, and pepper followed by notes of honey nut. Like the King Poseidon, I did not find the Series A to have the strongest blast of pepper (when compared to other Pepin cigars). The difference I felt was that the King Poseidon had a more underlying sweetness for a good chunk of the cigar experience. In fact, I've categorized the King Poseidon as having almost a "licorice/sambuca-like sweetness". I did not pick up this sweetness on the Series A.
The Series A seems to go toward coffee,espresso, and cocoa notes route in terms of flavor. The spice never seems to fade and it becomes more of a baker's spice as it went to the last third. The spice does transition back to more of a black pepper flavor toward the end – resulting in a nice kick for the cigar. This cigar took me 2 1/2 hours to enjoy. While my nub was a little soft at the end, this was to be expected given it was such a long smoke. Yet, the nub did not have any harsh notes.
While I felt the King Poseidon offered much in the way of complexity, there was something special in the flavors this cigar did produce. The flavor notes I got were excellent. They almost had a bit of a Padron-esque quality to them – a term I use for memorable flavor notes.
Burn and Draw
For a long cigar, this cigar burned extremely well. While it required some touch-ups, there were no significant burn issues. The La Sirena Series A burned a great rate and a did not burn too hot. I should note – I dropped this cigar and got a crack toward the footer. The cigar burned through the crack and this was a non-issue with the burn experience. No issues with the draw – this cigar was a pleasure to smoke.
Strength and Body
The La Sirena Series A holds true to being a full strength and full-bodied cigar. I actually thought the King Poseidon vitola took a while longer to build up to full strength. For the Series A, I felt the strength kicks in much earlier. I can see this cigar appealing to a lot of people who fit the profile of full strength/full body cigar enthusiasts.
Final Thoughts
Overall, this provides a different spin on what was already a great blend. The big length of this cigar gives this cigar a unique identity. Be prepared for a long smoke and don't try to smoke it very fast as you won't experience what this cigar has to offer. This vitola only strengthens what is a nice offering for this blend. I would buy this again and definitely recommend this to others.
Summary
Burn: Excellent
Draw: Excellent
Complexity: Medium
Strength: Full
Body: Full
Assessment: Memorable
Source: This cigar was purchased from Tobacco Plaza in Great Neck, NY.