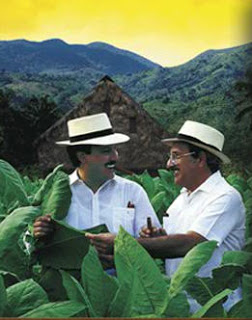 2012 will mark the Centennial celebration of Arturo Fuente Cigars. As a result, one can expect an exciting year from the company. Despite having to deal with a serious tobacco fire last year, Fuente is moving forward with four new blends.
The January 7th, 2012 Cigar Dave Show unveiled some information about the four blends. Most of the information is high level, but it is for something for cigar enthusiasts and fans of Arturo Fuente to keep in mind. This is still early information and much is subject to change and correction, but still this can give folks an idea of what is planned.. The plan is for these four new blends to be available or unveiled by the 2012 IPCPR retail show in Orlando, Florida.
1.Opus X Angel Share – This is actually a variation of the existing Opus X blend. The difference is that Fuente is using a different priming in the blend taking it from a middle leaf as opposed to the higher priming that is normally used. The idea is to give this cigar a sweeter component.
2.Don Arturo Aniversario: This is going to be a new line of limited annual releases. The plan is for this cigar to be available in six vitolas. The distinguishing factor here is a new Dominican-grown Cuban Seed wrapper that has been perfected by the Fuentes.
3.Arturo Fuente 8-5-8 Aniversario: This is being targeted as a larger ring gauge release than corona gorda ring gauge on the current Fuente 8-5-8s. It will also utilize the new Dominican-grown Cuban seed wrapper being used in the Don Arturo Aniversario.
4.Casa Cuba: This one has probably already been on the radar with Fuente fans as many were expecting it in 2011. A decision was made to age some the cigar some more. This cigar will be marketed without using the Fuente name on it. It is expected to be a cigar in the medium range.
Cigar Coop will follow these releases throughout 2012 and provide more information and hopefully have some in-depth blend previews when they are made available.
Source: 1/7/12 Cigar Dave Show. Click here for the podcast link.