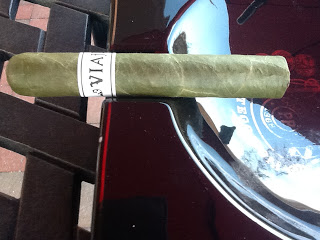 Andre Farkas, founder of Viaje Cigars posted a picture today of the 2012 Viaje White Label Project (WLP) Candela. The timetable for this release has not been announced, but since the 2011 release was targeted for St. Patrick's Day, it might be a safe assumption that this release will probably be targeted around the same time.
Farkas noted that the 2012 WLP Candela will be a 5 x 52 robusto. This is a change from the 2011 WLP Candela which was a 5 x 50 robusto. According to a facebook comment later in the week by Farkas there have been two significant changes: "The blend got a remix…and a much improved wrapper". The 2011 version used Nicaraguan binder and fillers wrapped with a candela wrapper. Most likely these will also be available in small batches to authorized Viaje retailers.
The White Label Project (WLP) is a series of cigars that are deemed somewhat experimental by Viaje. The 2011 WLP was Viaje's first foray into candela wrapper.
In 2011, we were very big fans of the 2011 WLP Candela and had this ranked as our #28 cigar for 2011.
We will have more information as this is made available.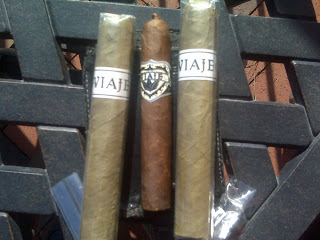 2011 Viaje WLP Candela (left and right), Viaje Exclusivo Short (Middle)
Update (2/17/12): Updated info on blend and improved wrapper.