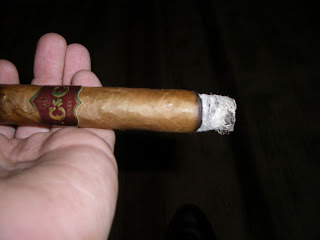 C & C Cigars was founded by Joe Chuisano. Many people know Chuisano from his days as president of Cusano Cigars. Back in 2009, Davidoff purchased Cusano Cigars. Chuisano would stay on with Davidoff until February of 2011, when he would resign. Shortly after that he would form a new company called C & C Cigars. The company currently offers three premium cigar blends and two blends sold as handmade bundles. Today, we will take a look the one of the three premium blends – the C & C Connecticut. Overall, I found the C & C Connecticut to be a positive cigar experience, and one that reminds me that Dominican tobacco can still make a very good cigar.
One interesting thing is the price point on these cigars. In addition to the C & C Connecticut, there is also a C & C Corojo, and the C & C LRMD (Maduro). The SRP for all three of these cigars is between $4.00 and $5.00. As cigar enthusiasts know, this represents an incredible value-point for a premium cigar. Our assessments on this web-site do not factor price into our final ratings, but with an aggressive price point such as what C & C is offering – this cannot be overlooked.
Let's take a look at the C & C Connecticut in more detail and see what this cigar brings to the table.
Blend Profile
There is no doubt Nicaraguan tobacco is the buzz in the industry. Let's not forget the Dominican Republic still is the biggest exporter of tobacco to the American market. The C & C Connecticut leverages Dominican binder and filler with an Ecuadorian Connecticut Shade wrapper.
Wrapper: Ecuadorian Connecticut Shade
Binder: Dominican Cuban Seed
Filler: Dominican
Vitolas Available
The C & C Connecticut is offered in three classic vitola sizes. The C & C Corojo, and C & C LRMD also offer the same frontmarks.
Robusto: 5 x 50
Toro: 6 x 52
Churchill: 7 x 50
Appearance
For this cigar assessment, I smoked the Robusto. The C & C Connecticut is highlighted by a light brown Ecuadorian Connecticut wrapper. The wrapper itself is slightly oily. It also has a bumpy feel to it and is a little toothy. The cigar also has a triple cap. Overall, it gives the C & C Connecticut a very classic cigar look. On the foot, there is a very distinct farm-like aroma – giving this a classic Dominican scent (which I am a fan of).
The band has a maroon background with the company name " C & C" in gold font promimently front and center. Over that text is a gold-colored crown, and under it is the text "Connecticut" in smaller gold font. The front of the band has an appearance of a shield. Flanking the shield going around the band, it has ivory and gold design.
Preparation for the Cigar Experience
As I typically do, I went with a straight cut into the cap of the C & C Connecticut. When I started the pre-light draw, I was treated to a combination of cedar and wood notes. The cedar notes took on more of the flavor of a sweet spice. Overall, it was a positive pre-light draw, so it was now time to fire up the C & C Connecticut and see what the smoking experience would yield.
Flavor Profile
The start to the C & C Connecticut treated me to some notes of light spice and cream. The after-draw early on was interesting. At times, I detected some pepper spice, and at other times I detected some cherry sweetness. The cigar would settle to primary notes of wood and cream. The C & C Connecticut does not go overboard with the cream notes. While the wood and cream may seem a little generic, it is the alternating after-draw of cherry and pepper that really made this an interesting smoke.
Around 10 percent into the smoking experience, the pepper and cherry that was on the afterdraw moved into the main draw. The flavors of pepper, wood, cherry, and cream formed a very interesting fusion – with no flavor really dominating the others. By the last third, the notes began to separate out. I could detect the wood primary, cream secondary, and the spice (which was now more of a cedar spice) tertiary. By this point, much of the cherry sweetness had dissipated.
The cigar had a smooth feel from start to finish. The resulting nub was cool in temperature, and slightly soft.
Overall, I felt the cigar had a good flavor profile. It definitely had more of a Dominican tobacco feel. This was not a negative as it proved Dominican tobacco is still very good.
Burn and Draw
While I mentioned price does not factor in, given that the C & C Connecticut is inexpensive, I was wondering how the construction attributes would hold up. The C & C does very well in terms of both burn and draw. I smoked three samples – and each time, I got a straight burn with an ideal burn rate and burn temperature. No issues with the draw either – as it was excellent on each cigar I had. There are plenty of cigars with a higher price point that diid not score as well as the C & C Connecticut did.
Strength and Body
I like the fact that C & C does not advertise this cigar to be anything higher than a mild cigar. From a strength standpoint, it is clearly one that falls into the mild strength category. The flavors of the C & C Connecticut are subtle, yet effective. I assessed the C & C Connecticut to be mild to medium in body. The strength and body balance each other very nicely. Mild/Mild to Medium cigars are perfect when you don't want too much cigar. This delivers a nice smoke without bringing "too much cigar".
Final Thoughts
Overall, this was an enjoyable smoking experience. The C & C Connecticut doesn't try to re-invent what a Connecticut-shade cigar is. This isn't going to be a very flashy experience. On the web-page for C & C, they mention "the blend of tobaccos will keep you interested from start to finish". With this cigar, I definitely subscribe to that motto as with a lot of Ecuadorian Connecticuts, I get bored rather easily. This is a nice cigar for a novice cigar enthusiast – and a perfect cigar to start someone off with their first cigar. Experienced enthusiasts might want more strength and body, but if they are looking for something milder, I wouldn't hesitate recommending this. I would certainly smoke this again. The price point is something that shouldn't be overlooked either.
Summary
Burn: Excellent
Draw: Excellent
Complexity: Medium
Strength: Mild
Body: Mild to Medium
Finish: Good
Assessment: Nice to Have
Score: 88
Source: The cigars for this assessment were provided by C & C Cigars. The request was initiated by C & C Cigars to myself (Cigar Coop) to provide an assessment. Cigar Coop is appreciative for the sample, but in no way does this influence this review.