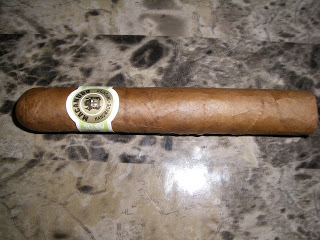 Macanudo Cafe Gigante
Up until a few years ago, the Macanudo brand within the General Cigar
family has primarily been associated with cigars that are traditionally
on the milder side in terms of strength and body. Over the past few years, Macanudo has added cigars such as the Cru Royale, Vintage 2007 Maduro, and 1968 as cigars that move away from mild and more toward a medium to full profile. Macanudo has been right at the top of best selling cigar brands for sometime – even before things changed in their portfolio. At the core of the brand is the Macanudo Cafe – a classic "mild" cigar. Recently, Macanudo added a 6 x 60 vitola to that line called the Macanudo Cafe Gigante . The end result is a very good addition to this classic line.
I realize 6 x 60 cigars are not popular when it comes to cigar purists. One cannot deny that they are one of the best selling sizes at retailers. My feeling is that not every cigar works as a 6 x 60, but when the blend does work – it can make one awesome cigar. In the end, I felt the Macanudo Cafe worked very nicely as a 6 x 60. Let's break down the Macanudo Cafe Gigante and see why it worked well.
Blend Profile
The Macanudo Cafe is made at the General Cigar Dominicana factory. The one thing that surprised me about the blend was the use of Mexican tobacco in the binder and filler.
Wrapper: Connecticut Shade
Binder: Mexican San Andres
Filler Dominican (Piloto Cubano), Mexican
Vitolas Available
The introduction of the 6 x 60 Gigante joins a large family of vitolas that make up the Macanudo Cafe line. This might be one of the most comprehensive offerings of vitolas of any blend. Given there were already so many frontmarks, I was a little surprised there already wasn't a 6 x 60.
For completeness, we have included all of the vitolas available in the Macanudo Cafe line:
Gigante: 6 x 60
Duke of Wellington: 8.5 x 47
Prince of Wales: 8 x 52
Prince Phillip: 7 1/2 x 49
898: 7 x 45
Portofino (Tube): 7 x 34
Trump: 6 1/2 x 45
Baron de Rothschild: 6.5 x 42
Majesty (Belicoso): 6 x 54
Tudor: 6 x 52
Duke of Windsor (Torpedo): 6 x 50
Thames: 6 x 50
Claybourne: 6 x 31
Crystal (Glass Tube): 5 1/2 x 50
Hyde Park: 5 1/2 x 49
Duke of Devon: 5 1/2 x 42
Hampton Court (Tube): 5 1/2 x 42
Duke of York: 5 1/4 x 54
Petit Corona: 5 x 38
Lords: 4 3/4 x 49
Diplomat 4 1/2 x 60
Ascot: 4 1/8 x 32
Court (Tube): 4 1/8 x 36
Caviar: 4 x 36
Miniature: 3 3/4 x 24
Appearance
The Macanudo Cafe Gigante is highlighted its big Connecticut Shade wrapper. The wrapper is light brown, but it almost has a golden sheen to it. There are some dark spots on the wrapper. It is slightly toothy, and slightly veiny.
The band to the Macanudo Cafe Gigante is green, white, gold, and black. A black Macanudo shield is in the middle on a gold circular background The gold background is actually two concentric circles with a white stripe. Over the shield it says "Macanudo" and under the shield it says "Handmade Imported"- both in black font. The remainder of the band has a white background with a green colored design resembling a certificate of authenticity.
Preparation for the Cigar Experience
While I almost always go with a straight cut into a cigar, given that the Gigante has larger ring gauge, this pretty much was the default for the cut. I commenced with a pre-light draw and I was treated to subtle creamy, orange flavors. Overall, I considered this to be a positive dry draw. It was now time to light my Macanudo Cafe Gigante and see what this cigar would bring to the table.
Flavor Profile
Throughout the smoke of the Macanudo Cafe Gigante, my feeling is the flavors produced by this cigar were more on the subtle side. The initial flavor notes to the Macanudo Cafe Gigante yielded notes of wood, cream, and a hint of cedar. The flavors all start out evenly. The cream then moved into a secondary role. Meanwhile the cedar became more of a sweet spice on the after-draw with some hints of orange. The wood remained a primary note, but was balanced nicely by the cream, sweet spice, and orange flavors.
The flavor profile held for the nearly the first 60 percent of the cigar. The notes of wood, cream, sweet spice, and orange varied in different degrees. The sweet spice at times did have some notes of cinnamon. It is after that 60 percent point where the sweet spice and cream kicked it up a notch and became the primary notes. While the flavors were subtle throughout the smoking experience, I thought by the time the nub was reached much of the flavors were muted. The nub did finish firm to the touch and cool in temperature.
Burn and Draw
One drawback of large ring gauge cigars is around the construction attributes of burn and draw. However, like any other cigar, if it is constructed well, this should not be an issue. With the Macanudo Cafe Gigante, this was not a case of trying to fit a round peg into a square hole – in other words, this cigar is well made. The cigar burned straight from start to finish – requiring very few touch-ups. The burn rate and burn temperature were ideal. As for the draw, no issues with the larger ring gauge here. The draw was effortless from start to finish.
Stength and Body
At the start of this assessment, I mentioned that the Macanudo Cafe has a mild profile. This applies to the attributes of strength and body. From a strength perspective this is your classic mild strength cigar – not really providing much in the way of a nicotine pop. From a body standpoint, I mentioned the flavors were subtle – making this a classic mild-bodied cigar. Toward the last third, there is an increase in body and the cigar moves into mild to medium-bodied territory. The strength and body counter each other very nicely creating a well-balanced cigar.
Final Notes
The important factor when assessing this cigar is that it is a mild strength, mild/mild to medium bodied cigar – and that needs to be taken into consideration for a final rating. Milder cigars must still appeal to a lot of people because cigar companies sell a lot of them. The Macanudo Cafe Gigante cigar is a good one. It's not a complex cigar, but it provides the subtle flavors that a good mild-bodied cigar will deliver. As I said above, the 60 ring gauge works very well with this blend. The Macanudo Cafe Gigante is a great cigar to give to a novice enthusiast as well as to someone who wants to cut their teeth on a bigger ring gauge. I would only recommend this to an experienced cigar enthusiast who would be looking for a milder profile on a larger ring gauge. As for myself, while I don't go for a milder profile that often, I would smoke this again if I wanted something mild.
Summary
Burn: Excellent
Draw: Excellent
Complexity: Low
Strength: Mild
Body: Mild, Mild to Medium (toward end)
Finish: Good
Assessment: Nice to Have
Score: 88
Source: The cigars for this assessment were provided by
General Cigar Company. These samples were initiated by General Cigar Company in order
to provide
feedback. Cigar Coop is appreciative for the sample, but in no way does this
influence this review.