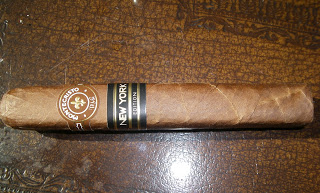 Montecristo New York Connoisseur Edition
When it comes to non-Cuban Montecristo cigars, these are often staple cigars in a U.S. brick and mortar humidors. While these cigars sell well, if you look at what many hard-core, younger cigar enthusiasts smoke, this is probably not a brand that is in their regular cigar smoking rotation. Therefore, when Atladis USA announced a special Montecristo cigar for New York State retailers, it didn't set off a frenzy for cigar enthusiasts to get this cigar. This cigar – the Montecristo New York Connoisseur Edition is not one to be overlooked. I found this not only to be an incredible cigar, but one that will put the name "Montecristo" in the running for the top spot of 2012 Cigar of the Year.
New York only cigars began to surface late 2010. Alec Bradley (Alec Bradley New York), La Aurora (Broadway and Broadway Maduro), and Gurkha (Para La Gente) have all released special cigars to be sold in New York only. With New York State retailers losing customers out of state (and online) due to that state's insane tobacco tax, these New York only cigars can provide a much needed jolt to these brick and mortar retailers. For the most part while these were good cigars, there was no real breakout cigar. However, once the Montecristo New York Connoisseur Edition was released, this changes the game.
Altadis had an official launch on November 30th, 2011 at Cigar Aficionado's Big Smoke. Since it came out post Thanksgiving 2011, it is eligible for the 2012 Cigar of the Year countdown. Why does this cigar deserve to be so highly ranked? Let's break down the Montecristo New York Connoisseur Edition and what this cigar delivers.
Blend Profile
The blend features tobaccos from three countries:


Wrapper: Ecuadorian Habano
Binder: Nicaraguan
Filler: Dominican
Vitolas Available
The Montecristo New York Connoisseur Edition will be available in a single vitola – a box-press 6 x 60. The cigar itself is sold in boxes of ten. While many cigar purists are sour on big ring gauge cigars, I've been on the record saying when one is constructed and blended correctly, there is nothing better. This cigar falls into that category. The box-press actually makes the Montecristo New York look a little thinner than a traditional 6 x 60.
Appearance
The Montecristo New York Connoisseur Edition has a medium-brown colored wrapper on it. As mentioned above this is a box-press shaped cigar. The Montecristo New York is certainly more toothy than most box-press cigars. It has several visible veins and several visible wrapper seams and I think it gives this cigar some charm. Overall, I would not classify this as an oily wrapper. The pack to this box-press does seem a little looser than most box-press cigars I encounter. I wouldn't categorize it as spongy, just looser.
There are two bands on the cigar. The first is the classic brown, gold, and white Montecristo band – found on many Montecristo "brown label" cigars. The secondary band is black with gold striping. On that band it says "New York" in white font with gold trim. Under that text, is the text "Edition" in smaller white font. Going across the back of the band is a design representing the skyline of Manhattan.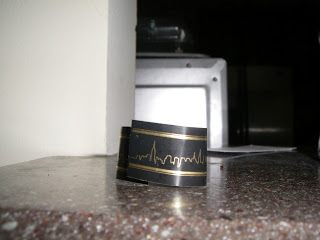 Montecristo New York Connoisseur Edition – back of band representing NY Skyline
Preparation for the Cigar Experience
For my Montecristo New York, I went with my typical straight cut into the box-press shaped cap. When I commenced with the pre-light draw I was treated to a combination of chocolate and pepper notes. Overall it wasn't a very complex dry draw, but the flavors were still good. At this point, it was time to light this cigar and see what the experience would deliver.
Flavor Profile
The initial draws of the Montecristo New York yielded a quick spurt of red pepper. I wouldn't categorize it as intense as the pepper blasts from cigars made by the Garcia family, but it did have somewhat of a resemblance to it. The red pepper blast gave way to some classic chocolate notes in the forefront.
By about the five percent mark, there were dried fruit and raisin notes. A few months ago, Seth's Humidor (one of our trusted web-sites), had assessed the Montecristo New York and had mentioned the cigar had peaches in the aroma. Whether this note stuck in my head or not, I can't say – but in my opinion the dried fruit did seem to have a peach-like flavor to it. It was a very unique sweetness to say the least. Meanwhile the red pepper spice transitioned into a nice baker's spice.
Around the ten percent mark, the dried fruit, chocolate, and baker's spice notes all seem to converge. These three notes provide a unique fusion in terms of flavor. While it might seem like a dessert table with my analogy, there is a nice foundation of natural tobacco and cream notes which make this an appealing cigar. This fusion holds throughout the first half – and occasionally there is some alternating as to which flavor is in the forefront.
By the midway point, the sweetness moves from a dried fruit to more of a citrus feel (I can still detect some of the peach flavor this cigar brings to the table). The chocolate and baker's spice are secondary, and I also detected some notes of cream. This is the flavor profile that holds until the end. The finish was a little bit warm, and slightly soft. I would have liked the nub to be firmer and cooler, but in the end, the cigar was not harsh at the end.
Burn and Draw
I'm going to lead with the draw of this cigar. The first time I had this cigar, I was guilty of overdrawing on it (this wasn't due to the cigar providing a loose draw, but more "user error" on my part). As I mentioned above, this cigar seems to have a looser pack to it than most box-press cigars, so this could be a problem when you ovedraw.b The overdrawing of this cigar caused it to burn much hotter in the second half than it should have. On the subsequent smokes, I eased up on the draw, and this adjusted the burn temperature to be ideal until the very end (where it did still burn soft). By not overdrawing this cigar, it will provide an enjoyable smoking experience.
The burn rate to this cigar seemed ideal. It did take some touch-ups to keep a straight burn-line on this cigar. These touch-ups were a little more frequent than I would have liked – and it kept this cigar from scoring "Excellent" in the burn category.
Strength and Body
The strength of the Montecristo New York can be a little deceiving. This cigar might start out as your classic "morning smoke", but the strength does creep in. I assessed this as a medium strength cigar to start, but by midway, it moves right into the medium to full range of the strength spectrum. As for the flavors, they are extremely robust and have some depth. This is everything a full-bodied smoke should be. The Montecristo New York has good balance between the strength and body, so a cigar enthusiast can enjoy what each of these two attributes bring to the table.
Final Thoughts
The flavors as good as any cigar I had in 2012. If this cigar required less touch-ups, and had a better nub on the finish, it would have scored even higher than it did. However, this is still an outstanding cigar. If this cigar can stay consistent throughout the year, I feel it will be in solid contention for a top spot as 2012 Cigar of the Year. It certainly is worth a box purchase in my book. It is worth noting that this cigar has an SRP of $14.95 (not including the NY taxes). The price doesn't factor into our assessment ratings, but it is still worth noting.
Altadis USA is doing some great things and this Montecristo can compete with any red-hot boutique cigar out there right now. I would not hesitate to recommend this cigar to experienced cigar enthusiasts. Novice cigar enthusiasts can appreciate this cigar, but they need to be warned it has more strength than one my think.
Summary
Burn: Good
Draw: Excellent
Complexity: Medium
Strength: Medium to Full (Medium to Start)
Body: Full
Finish: Good
Assessment: Memorable
Score: 94
Source: The cigar(s) for this assessment were purchased from Cigar Inn in New York, NY.