JM
Tobacco Unveils New "Classic Petits" Small Cigar Line
JM Tobacco, Inc., is displaying its new small cigar product category at the International Premium Cigar and Pipe Retailers trade show in Orlando, Florida, August 2-6. The 4″ x 32 Classic Petits, according to company president Anto Mahroukian, "Satisfy the rapidly expanding market for shorter-duration smokes.
"Smokers are moving toward smaller cigars like Classic Petits, because they provide a rich, flavorful fifteen-minute smoke break, for cigar lovers who don't have the time or budget for a full-sized premium cigar. But, unlike cigarillos, their larger ring gauge delivers a more abundant amount of smoke, which allows the smoker to enjoy more of a 'large cigar' experience."
Classic Petits are available in both natural and maduro wrappers. Their manufacturer's suggested retail pricing will be announced at IPCPR, and Mahroukian states it will be very competitive with existing brands of European "connoisseur-level" small cigars. The hand-made cigar combines a multi-nation blend of top-quality tobaccos, aged a full 2 years. They are made in the same Dominican factory as value-priced JM's Dominican line and Carnero premium cigars, also appearing at the show. JM's Dominican line is a Cuban sandwich, while the Carnero is an all-long-filler cigar.
Classic Petits come in an attractive, durable and convenient 7-cigar
carton, which gives them a greater price advantage over present European
small cigars, which are packaged in clamshell tins. The cartons can be
bought individually, as well as in 10-carton boxes, totaling 70 cigars.
They will be appearing on the shelves of tobacco retailers nationwide
in August. JM's retailers are listed on their Web site
(http://www.jmtobacco.com/store_locator.php).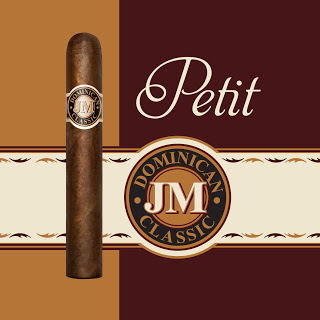 JM Tobacco launches its new Classic Petits, a 4" x 32 handmade, small cigar, delivering large-cigar smoking satisfaction
Source: The press release was sent from Dale Scott who represents JM Tobacco. Cigar Coop prints press releases as a service to all cigar companies.