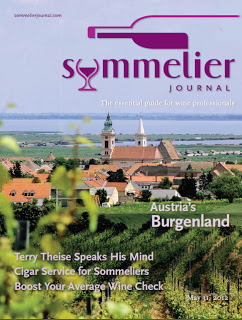 Miami, Florida – June 6th, 2012 – In
a recent article in the Sommelier Journal, America's top wine expert,
Alexander LaPratt tabbed the La Aurora Preferidos #2 as his favorite
cigar.
The article which appears in the May 31st, 2012 issues and spans pages 87-90 breaks down the art of Cigar Service, which many sommelier's offer upon request.

According to Mr. LaPratt, "[The La Aurora Preferidos #2]
is a fascinating cigar that I was introduced to while training for the
Best Sommelier in America competition. The shape is a perfecto, which
means it's tapered on both ends. When you light it, you first taste the
wrapper (from Cameroon) and the binder tobaccos; toward the thicker
center, more of the filler tobaccos start burning, and the flavor
changes. It reminds me of how wine changes within a glass. The blend is a
touch spicy in the beginning, but smoothes out as the cigar burns,
revealing complex flavors of coffee, toasted hazelnut, and cinnamon and a
creamy sweetness like that of milk chocolate.
About Miami Cigar & CompanyMiami
Cigar & Company, founded in 1989, is the exclusive US distributor
of La Aurora brands which include Guillermo Leon & Leon Jimenes.
They are also the worldwide distributor of Tatiana, Don Lino, La Sirena
and Nestor Miranda line of cigars. They can found on the web at http://www.miamicigarcompany.com/ and http://www.facebook.com/miamicigarcompany.

Source: This press release was provided by Miami Cigar and Company. Cigar Coop will post press releases as a service to all
cigar companies that choose to send Cigar Coop press releases.