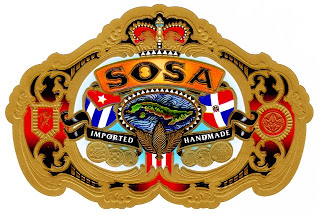 For Immediate Release:
The Sosa Family Adds A New Size To An Already Perfect Cigar Line
Miami, Florida-June 21, 2012-Antillian Cigar Corporation, owner of popular cigar brands such as Sosa, Imperio Cubano and Macabi, is happy to announce that it will be introducing a new 6 x 60 size to its Sosa Classic cigar line. This 6 x 60 will be one of the first 60 cigar ring gauges to be manufactured out of an Arturo Fuente cigar factory. The Sosa Classic line is handmade at the Tabacalera A. Fuente y CIA Factory # 4 in the Dominican Republic by master blender, Juan B. Sosa. All tobacco for Sosa Classic is aged for a minimum of three years and made with an Ecuador Sumatra wrapper. This new size is the perfect addition to the array of sizes already available in the Sosa Classic including the Gran Wavell, a 5 ½ x 55, that was added to the line last year in 2011. Sosa Classic has received various accolades throughout the years such as Cigar Aficionado acknowledging the Piramide No. 2 with a 93 rating in the April 1998 edition, and Cigar Aficionado also named the Wavell as one of the 25 Best Cigars of the Year 2007. The suggested retail for the 6 x 60 will be $10.00 and will be packaged in boxes of 21.
Arby Sosa, creative director and sales manager for Antillian Cigar Corporation and son of Juan B. Sosa, noted, "After gaining our distribution back just last year, my family realized that if it isn't broken, don't fix it. Instead, we are improving on our traditionally great brands. We have new brands we will be introducing in the next year or two that will only compliment the success we have had with the traditional Sosa lines. We are looking forward to bringing Sosa cigars to the forefront again."
In the continuation of improving on an already great product, Antillian Cigar Corporation is also re-introducing its Sosa Super Selection and streamlining it under the Sosa Classic line. The Sosa Super Selection will now carry the Sosa Classic main cigar band with a footband that distinguishes it as the Sosa Super Selection. The Sosa Super Selection is also handmade at the Tabacalera A. Fuente y CIA Factory # 4 in the Dominican Republic by master blender, Juan B. Sosa. Sosa Super Selection consists of five sizes and is box pressed with the "Capa Negra" San Andreas Mexican wrapper. The tobacco used is aged for a minimum of five years and, once made, the cigar is aged for another six months. Because of its full flavor and smooth dark chocolate undertones, the Sosa Super Selection is Arby Sosa's favorite cigar. The suggested retail for Sosa Super Selection ranges between $6.50 and $9.50 and is packaged in a box of 24.
The Sosa cigar tradition began with Don Juan Sosa, a small tobacco grower in the fertile Taguasco region of Cuba at the turn of the century. By the 1920's, his farm had become one of the largest tobacco-producing haciendas in Cuba. Over the next 30 years, Don Juan's son, Arturo, and grandson, Juan, manufactured cigars for sale in Cuba and abroad. Juan B. Sosa moved the operation to the Dominican Republic in the 1960's where the family re-established their factory along with operations in Miami, Florida. Today, the legacy of quality, handmade cigars made in the Cuban tradition continues with master blender, Juan B. Sosa, alongside his wife, sons and nephews.
For more information, directly contact Arby Sosa at 1-800-238-2234 or asosa@sosacigars.com or visit www.antilliancigars.com to learn more about the company. Please follow us on Twitter at @sosacigars or like our Sosa Cigars Facebook page at www.facebook.com/sosafamilycigars.
Source: This press release was sent to Cigar Coop from Sosa Cigars. Cigar Coop prints press releases as a free service to all cigar companies.