Assessment Updates will be posted on this web-site to: 1) Assess "pre-review" cigars that were not given a rating or score (typically pre-release cigars); 2) Provide numeric ratings to cigars previously assessed prior to the implementation of the numeric scoring system; 3) Provide a re-assessment and re-score of a previously assessed/score cigars. Today, we provide an assessment rating and score to Drew Estate's Liga Privada L40 Lancero. This was a pre-release cigar we did a pre-review for back in October, 2011.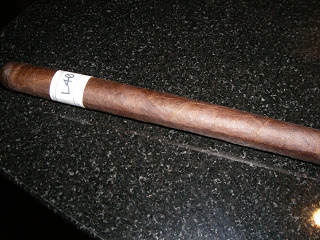 Liga Privada Unico Serie L40 Lancero
For all practical purposes the Liga Privada L40 Lancero is the second release in the Liga Privada's Unico Serie. Very simply put the Unico Serie is a one size, one blend concept in the Liga Privada line. The name L40 refers to this cigar having a 40 ring gauge. Most lancero vitolas do not have a 40 ring gauge,
therefore this was a lot of the rationale behind the naming of the
L40. The slightly larger ring gauge was done on-purpose to accommodate
the large variety of tobaccos going into a thin cigar.
The cigar's blend consists of a Connecticut River Valley Stalk Cut Habano wrapper (found on many Liga Privada cigars), a Brazilian Mata Fina binder, and three types of Nicaraguan Cuban seed in the filler.
During the pre-review, I noted how I felt this cigar could benefit from some age. No doubt time was kind to this cigar – as it was to the Liga Privada Unico Serie Dirty Rat. The flavors were much more mature at this point. It still provided me notes of chocolate, coffee, pepper, cedar, and raw sugar cane. The chocolate was less bittersweet and the tartness I had on the pre-release was gone. The cigar definitely mellowed out a bit. I originally had this a full strength, full-bodied cigar. Now it mellowed to a cigar just below that as I assessed it on the upper end of medium to full strength and medium to full-bodied. Both the strength and body balance each other very nicely.
The draw improved quite a bit as well. The follow-up cigars have an excellent draw – as well as an excellent burn.
Here is the original assessment of the Liga Privada Unico Serie Feral Flying Pig.
Assessment: Nice to Have
Score: 91