Each year, we select cigars and people to be inducted into the Cigar Coop Hall of Fame. For cigars, there are three ways to gain induction: 1) The number one Cigar of the Year for the prior calendar year gains automatic induction; 2) All Cigars assessed "Memorable" at least one year prior to induction are looked at and given consideration; 3) One Wildcard selection. For personnel, we select on industry leader/ambassador and one non-industry ambassador. Selections are made Columbus Day Weekend each year.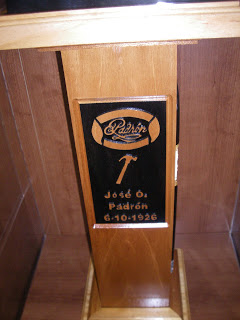 Cigar Coop Hall of Fame
Inductee Name: Jose O. Padron
Inductee Category: Industry Leader/Ambassador
Inductee Year: 2012
Jose Orlando Padron, founder of Piloto Cigars, Inc. (Padron Cigars) is this year's industry leader/ambassador selected for our Hall of Fame. Padron is a true pioneer in Nicaraguan tobacco. The story of his journey from Cuba, and managing through unrest in Nicaragua is amazing. At the same time, he has established a cigar brand that makes some of the highest rated cigars in the world.
Padron came from a tobacco family in the Pinar del Rio region of Cuba. He was born in 1926. When the Padron family fields were nationalized by Fidel Castro, Padron first emigrated to Spain, and then to York, and Miami. When a friend gave him a small hammer to work carpentry jobs, he used the money he earned to open his own cigar company (in 1964) and factory, thus the story of the Little Hammer was born.
In 1967, Padron began using Nicaraguan tobacco and three years later, he moved his company to Esteli, Nicaragua to keep up with consumer demands. When political unrest developed in the 1970s, Padron attempted to remain neutral. However his factory ended up getting burned down. He built another factory as well as a second one in Honduras. When the Sandinstas took over, Padron worked with them to ensure their wouldn't be any more problems. However, when the U.S. Embago Against Nicaragua was enacted, this presented a problem with Padron. This forced him to move product from Nicaragua to Tampa quickly. He eventually worked with the U.S. government to move his remaining product to the U.S. When the embargo was lifted, Padron moved his operation back to Nicaragua.
As a true industry ambassador and leader, we induct Jose O Padron into the Cigar Coop Hall of Fame in 2012