Assessment Updates will be posted on this web-site to: 1) Assess "pre-review" cigars that were not given a rating or score (typically pre-release cigars); 2) Provide numeric ratings to cigars previously assessed prior to the implementation of the numeric scoring system; 3) Provide a re-assessment and re-score of a previously assessed/score cigars. Today, we provide an assessment rating and score to the CAO Concert. This was a cigar we were fortunate enough to smoke a pre-release sample of back in September, 2012.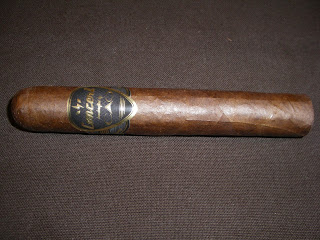 CAO Concert – Roadie
The CAO Concert was officially launched at the 2012 IPCPR Trade Show. The name concert pays tribute to the brand's musical roots in Nashville and represents a blend that is meant to provide harmony in its flavor profile. According to a report from stogieguys.com, the CAO Concert is a tweaked blend of the "C" blend from the Last Stick Standing Contest. When we scored the Last Stick Standing, we had this as our winning blend. We can definitely see the some parallels.
The CAO Concert features an Ecuadorian Habano Rosado wrapper (that actually has more of a milk chocolate look), a Connecticut Broadleaf binder, and a mix of Honduran and Nicaraguan fillers. The four vitolas all measure 5 1/2 inches in length, but vary in ring gauge (46, 50, 54, 60). For this assessment update we focused on the "Roadie" – the 5 1/2 x 54 cigar.
For the most part, this cigar performs exactly as our pre-review of the CAO Concert Roadie. The flavor profile remains pepper, chocolate, floral, leather, grass, and hickory. There is a definite blast of pepper to start this cigar. The notes start out medium-bodied and progress to full-bodied. The strength also increases from medium to full along the way. There is a great balance between the notes. There are some parallels to the Last Stick Standing "C", but ultimately we feel the tweaked blend changed the smoke – and for the better.
Construction is outstanding. The cigar has an excellent burn and excellent draw.
Click here for our pre-review of the CAO Concert.
Assessment: Memorable
Score: 93