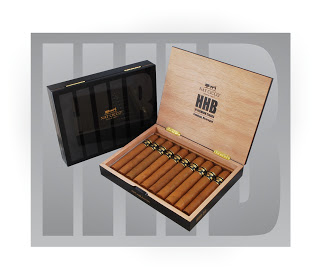 New Nat Cicco HHB"
is the most prestigious cigar …
a superpremium in a piano-finish,

Spanish cedar humidor of 10 cigars
Zander-Greg has just debuted their new Nat Cicco HHB superpremium cigar. It comes in three sizes: 7-1/4″ x 52, 6-1/4″ x 56 and 5-1/4″ x 54. They share a pigtail-capped head and a foot that is enclosed within the wrapper. Both features are also common to Zander-Greg's just-introduced Aniversario 1965, which celebrates the year the Nat Cicco (SEEK-oh) "Rejects" were born … the original value-priced cigar based on the oft-copied "Rejects" theme.
HHB has an Ecuadorian-grown Connecticut Shade leaf wrapper, with a Nicaraguan binder and filler. The cigar is well-balanced and full-bodied. The result is a smoke that the company describes as "robust, but creamy- smooth, very flavorful and elegantly aromatic." The cigar's performance and opulent presentation have prompted Zander-Greg to confidently compare it to Cuba's vaunted Cohiba Behike, which retails for over $50 a cigar. HHB's presentation befits its $14.00 manufacturer's suggested retail price … a black "piano-finish," furniture-grade Spanish cedar humidor-style box, holding ten nude cigars.
In only five years since buying and reintroducing the dormant Nat Cicco Reject brand, Zander-Greg has systematically climbed the ladder to market recognition and acceptance. Rejects are machine-made with homogenized binder, but still trump their short-filler competitors .. Rejects' extra-select, medium-length Cameroon, Connecticut, Honduran and Dominican remnants come from some of America's most prestigious and sought-after premiums.
Cuban Legends, their first 100%-prime-leaf, handmade premium, retailing at under $2.50, has been their next success, fueled by the sagging economy. In early 2012, the company unveiled the Nat Cicco Aniversario 1965 vintage cigar, with a competitive retail price of $6.00. It is also gaining ground rapidly, according to a company spokesman.
Zander-Greg's ambitious 2013 advertising campaign will introduce HHB to smokers and retailers alike, to help build a network of participating shops. The company is also actively promoting their cigars with in-store events nationwide.
Nat Cicco HHB is making a beachhead on the superpremium and Havana market, with smokers being asked to "Just compare it … especially to Cuba's Cohiba Behike."
Source:
The press release was sent from Dale Scott who represents Zander-Greg
Cigars. Cigar Coop prints press releases as a free service to all cigar
companies that choose to send Cigar Coop press releases.