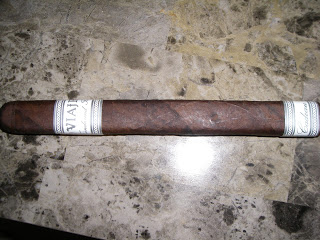 #4 Viaje Friends and Family
The Cigar of the Year Countdown has reached the Final Four. At #4 is the Viaje Friends and Family. This was a limited production cigar even by Viaje standards. There was a March release and recently a December release of the blend. When each batch was released, Viaje sent out only one box to select retailers and the box contained only 15 cigars. The Viaje Friends and Family was a personal blend of Viaje founder Andre Farkas. Farkas made a decision to make these available for sale. In our opinion, this ranks as one of Viaje's best releases to date.
The Viaje Friends and Family marks the third consecutive year that Viaje has landed on the Cigar of the Year countdown. It marks the second time in three years that Viaje has had a "Final Four" cigar in the countdown. In 2010, the first release of the Viaje Satori was our #3 Cigar for 2010.
The cigar is a beautiful box-press Churchill with the blend details not disclosed. The flavor profile is complex and loaded with twists and turns. The flavor profile includes black pepper, caramel, coffee, cinnamon, chocolate, orange, and baker's spice. This is a Viaje cigar that emphasizes flavor over strength. The flavors to the Friends and Family are full-bodied. The strength is in the medium range, but does kick up to medium to full strength toward the end.
This cigar ranked 95 on our first tasting. What was so unusual about that score was that it did have a less than ideal burn at the start (although it straightened itself out). The subsequent smokes did not have this issue.
Click here for our assessment on the Viaje Friends and Family.
Blend Profile
Wrapper: Unknown
Binder: Unknown
Filler: Unknown

Vitolas Available

The Viaje Friends and Family is only available in one size – a 7 x 48 box-press Churchill. The Friends and Family are packaged 15 cigars to a box.
Recommended Vitola: 7 x 48 (Default)