Assessment Updates will be posted on this web-site to: 1) Assess "pre-review" cigars that were not given a rating or score (typically pre-release cigars); 2) Provide numeric ratings to cigars previously assessed prior to the implementation of the numeric scoring system; 3) Provide a re-assessment and re-score of previously assessed/score cigars. Today, we provide a rating and numerical score to the 601 La Bomba. This was a cigar we did a pre-release review for back in May, 2011.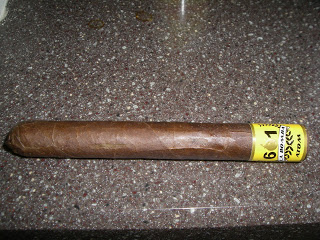 601 La Bomba
The 601 La Bomba was one of the more anticipated cigars to be released in 2011. The La Bomba is designed to be a strength and flavor bomb, thus the name "La Bomba". Since we originally smoked this cigar, the 601 line has undergone several changes. The La Bomba has not had an negative impacts from these changes and performs very nicely.
First up, since we smoked the pre-release, the cigar has gotten a band. It has also transitioned companies. Earlier this year, the (amicable) dissolution of EO Brands by Erik Espinosa and Eddie Ortega occurred. Both Espinosa and Ortega would go on to form their own cigar companies. Espinosa would form Espinosa Cigars and as a part of the split would inherit the 601 (as well as the Murcielago and Mi Barrio lines). Espinosa would also go on to purchase his own factory, La Zona. Meanwhile, the vitolas had gotten names (and a fourth vitola was added). Finally, the 601 La Bomba got some age on it – and that's always a good thing.
We once again revisit the Atom (Corona) vitola. At pre-release time, no blend details were disclosed. Since we smoked the pre-release, we learned the blend composition is a Nicaraguan puro with a Habano leaf. The flavor profile primarily consists of chocolate, pepper, and leather. I noticed this cigar had less in the way of cherry sweetness that I had on the pre-release sample. The cigar definitely falls into the full strength, full-bodied category. While there is a peppery component, I still would not categorize the La Bomba as a "pepper bomb".
When I did the pre-release review I said: "Is this the strongest cigar on the market? Absolutely not. It will provide a nice nicotine kick though. As for the flavors, they had depth and the makings of a great blend. This is a good example of a cigar that balances its strength with its flavor"
The La Bomba has excellent construction and this is reflected in a great burn and draw. The ash is nice and tight with a salt and pepper color.
Assessment: Nice to Have
Score: 90


Click here to read our original pre-release assessment of the 601 La Bomba.
Additional Reference
For reference purposes we include the blend components and vitola names since this information was not available when the pre-release review was done.
Blend Profile


Wrapper: Nicaraguan Habano
Binder: Nicaraguan
Filler: Nicaraguan


Vitolas Available


Atom: 5-1/2 x 46
Napalm: 5 x 52
Nuclear: 6 x 50
Atomic: 6 x 60