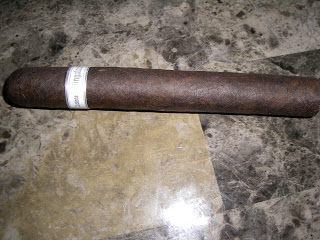 #3: Illusione Singulare 2012 Vimana
Today we look at the first spot on the 2012 Cigar of the Year "podium". Our selection for #3 cigar on the 2012 Cigar of the Countdown is the Illusione Singulare 2012 Vimana. This is the first maduro cigar in the Singulare series, and in our opinion this is the finest cigar produced by Illusione to date.
The Illusione Singulare 2012 marks the second consecutive year that Dion Giolito's Illusione brand has placed a spot on the countdown. It also marks the second year in a row that an Illusione maduro blend has placed on the countdown (last year the Illusione's (core line) Maduro was our #14 Cigar). The Singulare 2012 is also the highest ranked Illusione cigar to date.
The Singulare series was introduced two years ago. It uses the limited release concept of one size and one blend. It is a true limited concept because once the cigars are gone, they are gone. The Singulare 2011 edition did not get released last year, and brand owner Dion Giolito made a decision to package the Singulare 2011 with the Singulare 2012. The blends are different. The Singulare 2011 had Cafe Rosado Corojo wrapper and the Singulare 2012 had a San Andres Mexican maduro wrapper.
While I've been critical of a San Andres maduro because it can overwhelm a blend, Giolito proves this author wrong. In fact, during our conversation with Giolito at the 2012 IPCPR, Giolito made the comment how he wanted to work with this blend such that the San Andres wrapper would not become too overwhelming. This is exactly why this cigar blend worked so well. In this author's opinion, Giolito and his brand are setting the standard how to work with this wrapper. (On a side note, this is the fourth cigar on the 2012 Cigar of the Year countdown to use Mexican wrapper, so there have been other excellent cigars with this wrapper)
The flavor profile of the Illusione Singulare 2012 consists of coffee, chocolate, espresso, leather, pepper, cedar, honey, and raisin. While this may sound like dessert, there is a wonderful tobacco component to this cigar. The flavors are bold, but not too bold – medium to full in body. The strength is medium – and also does not overpower. The construction is outstanding and this is reflected in the burn and draw.
Click here for our assessment on the Illusione Singulare 2012 Vimana.
Blend Profile

Wrapper: San Andres Maduro
Binder: Nicaraguan
Filler: Nicaraguan

Vitolas Available

The Illusione Singulare 2012 Vimana is available in a single vitola – a 6 x 52 Toro. The official vitola name is Vimana. Vimana has its origins in Sanskrit. Cigar Aficionado reported the term was a Sanskrit term for UFO (Unidentified Flying Object).
Recommended Vitola: Vimana 6 x 52 (Default)