Assessment Updates will be posted on this web-site to: 1) Assess "pre-review" cigars that were not given a rating or score (typically pre-release cigars); 2) Provide numeric ratings to cigars previously assessed prior to the implementation of the numeric scoring system; 3) Provide a re-assessment and re-score of previously assessed/score cigars. Today, we provide a rating and numerical score to the E.P. Carrillo Edicion Limitada 2011 – Dark Rituals.  This was a cigar we did a pre-release review for back in September, 2011.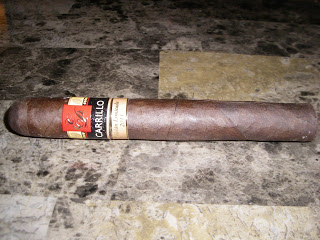 E.P. Carrillo Edicion Limitada 2011 Dark Rituals
The E.P. Carrillo Edicion Limitada 2011 – Dark Rituals was the third release in E.P. Carrillo's annual Limitada series.  It was one of five new blends that was released by E.P. Carrillo in 2011. This series has involved releasing a single blend in a single size.  For Edicion Limitada 2011, the size was a large 6 1/2 x 56 "Super Toro".
The cigar gets its name "Dark Rituals" from its dark-colored wrapper which is described as an "Oscuro Maduro".   While the country of origin was not disclosed, the remainder of the blend does feature an Ecuadorian Sumatra binder and Nicaraguan filler.
When we initially smoked the Dark Rituals, we found a flavor profile of black cherry, leather, espresso, cinnamon, baker's spice, and even tea notes.   Upon smoking this for the assessment update, we also detected chocolate and floral notes.   The cigar undergoes an interesting transformation in the last third where it literally changes from an espresso/chocolate influence to more of a tea influence.  We also detected a little more pungency in the flavor profile this time around.
The strength and body were both medium to full.  The blend seemed to mellow a bit over-time.  Over the past 16 months we have smoked these, we noticed this cigar was better smoked when stored at a lower humidity (around 67%).  The burn and draw were also much better under the drier conditions – and this was reflected in this assessment update.
E.P. Carrillo was our 2012 Manufacturer of the Year.  While this was a 2011 release, it showcases the long line of quality smokes from this company.
Click here for our original pre-release assessment of the E.P. Carrillo Edicion Limitada 2011 Dark Rituals.
Assessment: Nice to Have
Score: 90
Source: The cigars for this assessment were purchased from Outland Cigars in Charlotte, North Carolina.