Assessment Updates will be posted on this web-site to: 1) Assess "pre-review" cigars that were not given a rating or score (typically pre-release cigars); 2) Provide numeric ratings to cigars previously assessed prior to the implementation of the numeric scoring system; 3) Provide a re-assessment and re-score of previously assessed/score cigars. Today, we provide a numerical score to the Humo Jaguar by Miami Cigar and Company. This was a cigar we assessed back in October, 2011.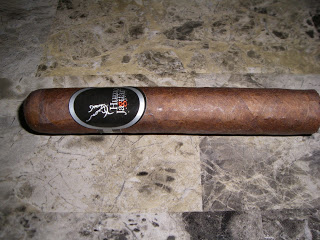 Humo Jaguar by Miami Cigar and Company
At the 2011 IPCPR Trade Show, Miami Cigar and Company launched the Humo Jaguar cigar. This cigar was a blend entered in a contest at the 2011 Humo Jaguar cigar festival in Honduras by Nestor Plasencia. Plasencia's blend turned out to be the winning blend. After the festival, Miami Cigars made a decision to distribute this cigar. The cigar was named "Humo Jaguar" after that festival. This cigar impressed us so much, we rated it as our #29 Cigar of the Year for 2011. Now with 15 months of age on it, the Humo Jaguar continues to deliver a great smoking experience.
The Humo Jaguar is a Honduran puro. We feel Honduran tobacco had a renaissance in 2011 and this cigar exemplifies that renaissance. It features a visa priming Honduran Oscuro wrapper, a binder from Talanga, and Honduran Cuban Seed filler. It is available in three sizes: Robusto (5 x 52); Corona Gorda (6 x 52); and Gigante (6 x 60). For this assessment update, we smoked our preferred vitola – the Robusto.
The Humo Jaguar might be a Honduran puro, but it has many of the bold charcteristics found in a Nicaraguan blend. It features a mix of coffee, cocoa, oak, pepper, citrus, hickory, and mesquite. The citrus notes were not very overpowering and was a new flavor detected from when we initially smoked this cigar. Like that original smoke, the hickory and mesquite were also subtle and added some uniqueness to this cigar. In addition, the spice does kick up in the second half – another quality that was the same when we originally smoked this cigar.
We found this Humo Jaguar to be a medium to full strength and full-bodied cigar. This was the inverse from 15 months ago where it was more full strength and medium to full-bodied. No doubt some age had a taming effect while maturing the flavors.
The Humo Jaguar is one of those cigars that has impeccable construction. You can see this when visually inspecting the cigar and from its incredible burn. The ash consistently is one of the tightest, white-colored ashes I've seen. The draw is also outstanding.
Click here to read our original assessment of the Humo Jaguar.
Assessment: Memorable
Score: 92
Source: The cigar for this Assessment Update was purchased from Outland Cigars in Charlotte, North Carolina. We have had this aging for 15 months.