Assessment Updates will be posted on this web-site to: 1) Assess "pre-review" cigars that were not given a rating or score (typically pre-release cigars); 2) Provide numeric ratings to cigars previously assessed prior to the implementation of the numeric scoring system; 3) Provide a re-assessment and re-score of a previously assessed/scored cigar. Today, we provide a numerical score to the Emilio AF2. This was a cigar we assessed in July 2011.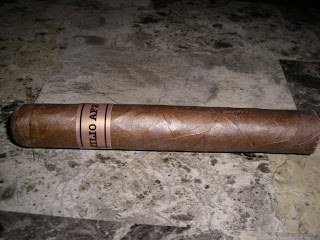 Emilio AF2
The Emilio AF2 is one of the three cigars that Emilio Cigars has teamed up with blender A.J. Fernandez to produce. The cigar was released back in 2011 and has the name indicates this was the second of the A.J. Fernandez Cigars to be released. This was also a cigar that really helped put Emilio Cigars on the map. We were very impressed by it when it was first released. The cigar made enough of an impression on us that we selected it as our #21 Cigar of the Year for 2011. Now some 18 months after we first assessed this cigar, the Emilio AF2 continues to perform at a high level.
The blend for the Emilio AF2 consists of an Ecuadorian Habano Oscuro wrapper with fillers from Nicaragua and Pennsylvania. The Pennsylvania tobacco is ligero and you definitely will taste the ligero spice in this blend. There are now five vitolas in the line: Robusto (5 x 50), Toro (6 x 50) , Torpedo (6 1/2 x 52), BMF (6 x58), and the newly added Corona (5 1/2 x 44). For this assessment update, we revisit the Toro size.
As mentioned spice is going to play a key role in the flavor profile. The spices are multi-dimensional on this cigar as I got classic black pepper, exotic spices, and cedar throughout the smoke. I also encountered some notes of sugar cane and to a lesser extent – coffee and cinnamon flavors. I didn't get some of the raisin notes I got when I first smoked this cigar, but it didn't take away from delivering a nice flavor profile. There is also an interesting background cream note that helps to smooth the spice a bit, but the spice will be the story with this cigar. While the spice makes this cigar seem stronger, I still assessed this as a medium strength cigar from a pure nicotine standpoint. The flavors are robust, and are on the upper end of medium to full. This is definitely a cigar that emphasizes flavor over strength.
Both Emilio Cigars and A.J. Fernandez have a very good track record when it comes to construction. The Emilio AF2 keeps true to that high level of quality established. It also delivers an outstanding burn and a flawless draw.
Click here for our original assessment on the Emilio AF2
Assessment: Memorable
Score: 92
Source: The cigars for this assessment update were purchased from Outland Cigars in October, 2011. These cigars have been aging since then in the Cigar Coop humidor.