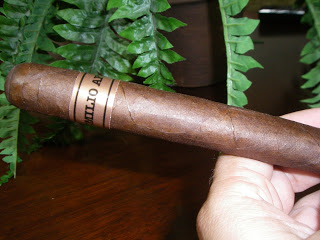 Emilio AF2
A rule of thumb I have is if you are looking to build a brand to carry in a retailer humidor, the key thing is there must be three blends that are solid from that brand. Over the past couple of months, I have sampled two amazing cigars from Emilio Cigars – the Emilio AF1 and the Grimalkin. Both of these cigars have been assessed as "Memorable" in my book. With Emilio Cigars off to a good start, I was anxious to see what would come when I sampled a third blend from them. This time, I had the opportunity to sample the newly released Emilio AF2. The Emilio AF2 would have a tough act to follow, but once again this brand delivers a simply amazing cigar. No doubt, Emilio has now shown they are a true brand builder for any retail humidor.
Emilio Cigars comes from Gary Griffith of Delaware Cigars. Gary is a Certified Retail Tobacconist who oversees the operations for the Delaware Cigars franchise. For the Emilio AF1, Gary teamed up with A.J. Fernandez (thus the name AF1). Once again, Griffith turns to Fernandez – this time to deliver the sequel. As a result, we now have the Emilio AF2. The AF2 would prove to be a very different cigar than the AF1 (and the Grimalkin for that matter which is not a Fernandez cigar). However, the quality of this cigar is top-notch like the AF1 and Grimalkin.
Let's look closer at the Emilio AF2 and see what this blend brings to the table.
Blend Profile
For the Emilio AF2, this cigar leverages an Ecuadorian Habano Oscuro wrapper. It makes for one good looking cigar. Combine that with its copper colored band and it is striking. However, there is a bonus in the AF2 – the use of Pennsylvania Ligero in the filler. For those who follow AJ Fernandez, his use of Pennsylvania Broadleaf tobacco has made for some very unique cigars such as the Patel Brothers and the Diesel Unholy cocktail. Once again Fernandez turns to Pennsylvania tobacco to be a part of his blend.
Wrapper: Ecuadorian Habano Oscuro
Binder: Unknown
Filler: Nicaraguan, Pennsylvania Ligero
Vitolas Available
The Emilio AF2 mirrors the vitolas that were made available with the Emilio AF1.
Robusto: 5 x 50
Toro: 6 x 50
Torpedo: 6.5 x 52
BMF: 6 x 58
Preparation for the Cigar Experience
While its a different blend than the Emilio AF1, I was glad to have a Toro vitola to smoke of the Emilio AF2. I had assessed the Emilio AF1 in a Toro, so I figured I'd try to be consistent even though I am not going to draw comparisons between the two blends. I placed a straight cut through the cap and took some dry draws. This pre-light draw ritual provided an interesting combination of cedar spice and pepper. I also had some hints of raw sugar cane (i.e. not too sweet) and cinnamon in the background. The pre-light draw was very satisfactory to me, so it was time to light the AF2 and see what would now come.
Flavor Profile
Spice is going to play a key role in this flavor profile from beginning to end. I was treated to a blast of pepper and cedar spice to start. The spice smooths out rather quickly and evolves into something very unique. It wasn't easy to pinpoint what the spice is, but it has much more of an exotic (but non-infused) spice feel.
After the exotic spice surfaces, I also noticed the return of the sugar cane notes I had on the pre-light draw. Around 10 percent into the smoke, I even detected some notes of raisin, but they subside pretty quickly. I didn't consider this a negative as it adds to the complexity the AF2 offers. For the first half, the primary flavor was the exotic spice and the sugar cane was more of a secondary note. There are times the sugar cane did increase in intensity when compared to the exotic spice.
The second half of this cigar continues a lot like the first. I noticed as the second half starts, there are points where I was able to detect some coffee and cream notes. While these notes weren't very dominant it's another factor in the equation of why this cigar was so good. The last third brought some hints of cinnamon, but still the exotic spice and sugar cane were still going to be the basis for much of the flavor profile.
This was a very smooth cigar from start to finish. I was able to smoke this one right down to the nub. The flavors were there right to the finish.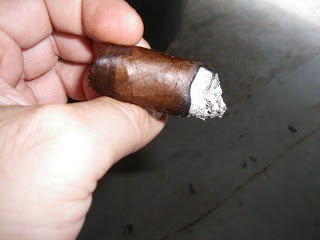 Nub of the Emilio AF2
Burn and Draw
The combination of Fernandez and Griffith work again. When it comes to constructing a cigar with a great burn, Fernandez cigars shine time and time again. This has also been reflecting in the Emilio brand – whether its a Fernandez cigar or not. This cigar required virtually no touch-ups and burned razor-sharp. The burn rate and burn temperature were perfect. The draw was equally impressive. The important thing is that there is consistency in not just this blend, but in the Emilio brand.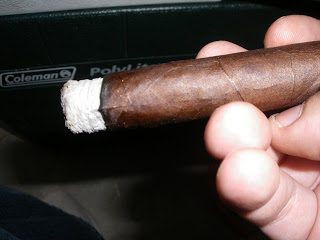 Razor Sharp Burn of the Emilio AF2
Strength and Body
This cigar won't overpower you. I'd definitely assess this cigar on the high end of "medium" in terms of strength. At the same time, while this cigar has spice from start to finish, it isn't going to be overpowering in terms of spice. In addition to the spice, all of the flavors had depth to them. For body, I'm assessing this as "medium to full".
Summary
No doubt, Emilio Cigars is building a powerful lineup of cigars. This is a brand I'd recommend for retailers to carry in their humidors because customers are going to love them. The Emilio AF2 will shine brightly and will be a unique cigar experience. The subtle secondary notes really add to the complexity of what the AF2 has to offer. It's a cigar I'd reach for again and one that I would consider purchasing a box of. I'd probably recommend this for a more experienced cigar enthusiast before the novice. I'm looking forward to more great things from Emilio. Emilio AF3 someday?
Summary
Burn: Excellent
Draw: Excellent
Complexity: High
Strength: Medium
Body: Medium to Full
Assessment: Memorable
Source: This cigar was provided to myself from Emilio Cigars. The request was initiated by Gary Griffith of Emilio Cigars to myself (Cigar Coop) to provide an assessment. Cigar Coop is appreciative to samples provided but this plays no role in a final assessment rating.