The following press release (from ProCigar 2013) was received from S.A.G. Imports around the new Fonseca Cubano Exclusivo. The text appears below: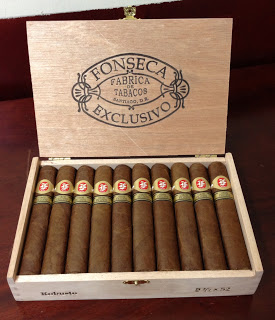 Fonseca Cubano Exclusivo
We are really excited about this project. We've been trying to figure how best to take advantage of the brand recognition of Fonseca without suffering from the perception that all Fonseca's are mild. The Cubano Limitado is not a mild cigar but we changed the look and taste so much many people don't realize it's a Fonseca. What we developed captures the best of both worlds in terms of both the cigar and the presentation, something instantly recognizable as Fonseca but clearly distinguishable from any Fonseca currently produced. We are calling it the Fonseca Cubano Exclusivo. The bands and packaging utilize the imagery and design of both the classic Fonseca and the Cubano Limitado, as well as pay homage to the Cuban roots of the brand. In terms of taste, the cigar falls into the low medium range with cedar and floral notes prominent. The goal is to offer greater intensity of flavor to those who find the classic Fonseca too mild while still providing the smoothness and balance that appeals to those already loyal to the brand.
Source: This press release was sent from S.A.G. Imports. Cigar Coop will print press releases as a free service to cigar companies that choose to send us press releases.