Assessment Updates will be posted on this web-site to: 1) Assess "pre-review" cigars that were not given a rating or score (typically pre-release cigars); 2) Provide numeric ratings to cigars previously assessed prior to the implementation of the numeric scoring system; 3) A re-assessment and re-score of a previously assessed/score cigars. Today, we provide a rating and score for the My Uzi Weighs a Ton Digital Son 6. This was a cigar we did a pre-release review for back in December, 2012.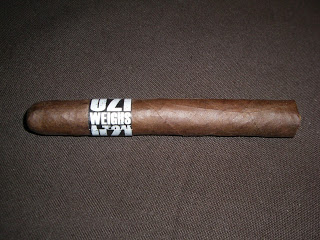 My Uzi Weighs a Ton – Digital Son 6
Back in December, we had a joint-exclusive announcing the launch of the My Uzi Weighs a Ton Digital Son 6 (MUWAT DS-6). This would add a sixth frontmark to the My Uzi Weighs a Ton line and would become a retail exclusive to Charlotte, North Carolina retailer Outland Cigars. For this frontmark, the DS-6 was made available in a corona-sized 5 x 42 vitola.
When we provided the joint-exclusive preview back in December, Jonathan Drew (Chairman of Drew Estate) explained to us what was different about the DS-6 compared to the original line:
"..the blend is specific and distinct. There are many elements of the EF (an internal name for a stronger MUWAT blend), but with a new leaf added from a different farm in Esteli. Wrapper is San Andres, binder is Connecticut – just like all the other MUWAT."

Drew mentioned to us that the specific blend for the Digital Son 6 was done by Mario Perez at the Joya de Nicaragua factory. In addition to the San Andres wrapper and Connecticut Shade Binder, the filler tobacco is Brazilian Mata Fina and Nicaraguan.
Overall we have found this particular blend in this particular vitola to work beautifully together. The Digital Son 6 will provide a mix of chocolate, leather, cherry, cream, and pepper. The flavors on this post-release seemed to mellow a bit. I assessed them to be medium to full-bodied (down from full-bodied on the pre-release). The strength also mellowed to medium to full (down from full strength on the pre-release). The mellowing of both the strength and both should be viewed as a positive as it created a much smoother smoking experience. Both the strength and body counter each other nicely – providing a good balance.
The construction was excellent. This has lead to an excellent burn and excellent draw.
Click here for our pre-release review of the My Uzi Weighs a Ton Digital Son 6.
Assessment: Nice to Have
Score: 92

Source: The cigars for this assessment update were purchased from Outland Cigars in January, 2012. These cigars have been aging since then in the Cigar Coop humidor.