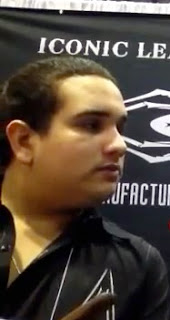 J.R. Dominguez
(Cigar Coop Photo)
It's been a very exciting two weeks for Iconic Leaf Cigars. Last week, we got early word of the company's second line, the Recluse Draconian. This was followed by the official press release this past Monday. Following this news, we recently had an opportunity to once again talk with the man behind the blends at Iconic Leaf Cigars, J.R. Dominguez.
Dominguez is a rising star in the cigar industry. Last year at the 2012 IPCPR Trade Show, we had a chance to do a cigar conversation with Dominguez. This time, I did a conference call with Dominguez, who was hard at work in the Tabacalera Leyendas Cubanas factory in the Dominican Republic. I caught up with him on things – and got some insights into what 2013 brings to Iconic Leaf Cigars.
Here is a recap of some the topics I had in my conversation.
Summing Up the First Year of Iconic Leaf Cigars
Dominguez was genuinely excited, and I could hear it in his voice. He was very pleased with the response the marketplace has given him on the Iconic Leaf Recluse. He mentioned to me he was having "fun" working at the factory. Being at the cigar factory was almost second nature to him (he is the son of master blender Jose Dominguez from Victor Sinclair).
He also mentioned the response from the online media in terms of the Recluse, and was very appreciative with the feedback the Recluse had received.
The Ten Frontmarks of Recluse
Originally, I had asked Dominguez if there would be any further line extensions to the Recluse, perhaps some additional parejo shapes. Dominguez said if the market dictates that, it would certainly be considered. We then discussed the fact that the Recluse line did launch with 10 frontmarks. It was a surprising decision to many in the industry to do that. However, Dominguez wanted to be aggressive in terms landing a segment up the market. He mentioned that when this strategy was implemented he was clearly "up for the challenge".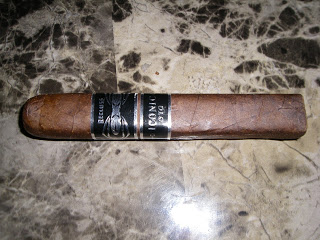 Iconic Leaf Recluse
Dominguez's Favorite Vitola of the Recluse Line
With 10 vitolas in the Recluse line, I asked Dominguez what his favorite size was. Without hesitation, he mentioned the robusto size. He felt that robusto captured the best aspects about the Recluse blend. He did tell me though that in regards to the whole line, "each cigar has a story to tell".
In regards to Entubado rolling
This is a method of rolling cigars that comes from Cuba which involves a "tubing" process – namely taking each filler leaf and rolling it into a tube instead of folding the leafs. After the filler leaves are tubed, a binder is applied. This has become a staple of Recluse's production process, so we discussed a little bit of that.
There is no doubt, Dominguez is passionate on the entubado process. He feels this process results on the best draw on a cigar, so this practice will continue on future lines.
The new Recluse Draconian
We then transitioned to discuss the upcoming new line, the Recluse Draconian. Dominguez was equally excited about this project. I also asked him how this complements the original Recluse. He mentioned that this blend, like the original Recluse delivered an "exceptional smoke", but it was a completely different blend and delivered a very different smoking experience.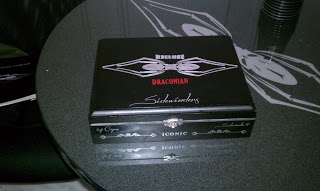 The Sidewinders Vitolas of Recluse Draconian
At the 2013 IPCPR, Iconic Leaf Cigars will unveil three new cigar shapes never done before called Sidewinders. While I didn't get any details around this project, Dominguez did tell us he liked to "create a little mystery" around the project.
The Pre IPCPR Launch of Draconian
Before our conversation with Dominguez, I met with Scott Weeks, the National Brand and Marketing Manager for Iconic Leaf Cigars. In that conversation he told us that there would be three box-press sizes in addition to the Sidewinders released prior to IPCPR. These sizes would be made available to only five retailers.
This topic also came up during the my conversation with Dominguez, and it was also something he was very excited about.
About Blending
I decided to wrap up the conversation with Dominguez around the topic of blending. I asked Dominguez some of the things he looks at when he does a blend. He mentioned that when he is blending, he often trying to hit a certain profile – whether mild, medium, or full. One thing he looks for in a flavor profile is something that is smooth on the pallet, yet doesn't overwhelm the pallet. I asked him how he achieves that. He admitted that blending is very much an iterative process. You keep trying and trying until you "hit".
Acknowledgements
Thanks to Scott Weeks of Iconic Leaf Cigars for arranging the conference call with J.R. Dominguez. Thanks to Outland Cigars in Charlotte, North Carolina for allowing their gracious use of their facilities to have this call. Finally, a special thanks to J.R. himself. J.R. just got married this past weekend, and was yet hard at work at the factory. We congratulate him and his bride and wish him the best.