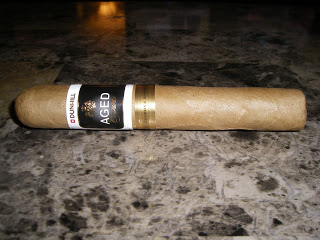 Dunhill Aged Reserva Especial 2003
The Dunhill Aged Reserva Especial 2003 is a new release by Dunhill Cigar that was announced late last in 2012. The story with this cigar is the filler of this cigar comes from ten year old Dominican tobaccos. In recent years, things have been quiet with the Dunhill brand – however when the Reserva Especial 2003 was announced, there was talk from brand head Yves Politi that we could be seeing more from Dunhill in 2013. With the Dunhill Aged Reserva Especial 2003 now on retailer shelves, it was time to smoke this cigar and see what it is all about. Overall, this is a cigar that sits on the milder side, but does not fall short on delivering an excellent cigar experience. This was a very impressive cigar.
The Dunhill brand can be traced back to Alfred Dunhill's tobacco shop that opened in 1907 on Duke Street in London. The store had numerous marketing/distribution agreements with many Cuban cigar manufacturers. The store also served as a tobacconist for such famous people as Winston Churchill and King George VI. Dunhill's relationship with the Cuban cigar market continued after the Cuban revolution. In 1982, Dunhill started working with Cubatabaco (Cuba's nationalized tobacco company) to produce cigars. By 1984, the cigars started hitting the market and expanded into 30 countries. While the brand expanded, they soon started facing competition and by 1991, Cubatabaco and Dunhill went their separate ways. Dunhill did not find a new manufacturing source and eventually the brand name was sold to British American Tobacco. Today there are two core lines the Dunhill Aged (Blue Label) and the Dunhill Signed Range. The cigars are distributed by General Cigar Company.
We've seen companies like General and Altadis breath some life into some classic cigar brands. It appears that British American Tobacco is now following along this path. Let's take a closer look at the Dunhill Aged Reserva Especial 2003 and see what this cigar is all about.
Blend Profile

The Dunhill Aged Reserva Especial 2003 features a U.S. grown Connecticut Shade wrapper. In days where Ecuadorian grown Connecticut Shade are the rage, it seems to be less common to see a U.S. grown Connecticut Shade. This cigar has a strong U.S. influence as it also features a Connecticut Broadleaf. As mentioned there are ten year old Dominican fillers in this blend.

Wrapper: (U.S.) Connecticut Shade
Binder: Connecticut Broadleaf
Filler: Dominican (2003 crop), Nicaraguan

Vitolas Available

The Dunhill Aged Reserva Especial 2003 is being made in a single vitola. A 5 1/2 x 54 Robusto Grande. Cigars will be packaged in boxes of 10 with production slated for 3,500 boxes.
Appearance
The Dunhill Aged Reserva Especial 2003 has a very light brown Connecticut Shade wrapper. The wrapper is not oily. The wrapper is not oily and is a little bumpy. There are visible veins and visible wrapper seams – giving the wrapper a very rustic look to it.
There are two bands on the Reserva Especial 2003. The first band is a black and white version of the core line Dunhill Aged blue and white band. The band features a large black background surrounded by white trim. On the black background there is faded gray circle. Over that circle it says "AGED" in large white font. Above that text is a gold crown while below the text it says "Aged" in gold cursive font. On the upper part of the band, it says "DUNHILL" in gold font sitting on the white trim. To the left of it is a small red square with a white filled-in "D".
The secondary band sits just below the main band. This band is gold with some gold etching on it. On that band it says "RESERVA ESPECIAL 2003" in thin black font.
Preparation for the Cigar Experience
For my cigar experience, I went with my usual choice of a straight cut into the cap of the Dunhill Aged Reserva Especial 2003. The dry draw notes provided a nice mix of wood, butter, pepper, as well as some citrus sweetness. Overall I considered this to be a very good pre-light experience. At this point, I was ready to light up my Reserva Especial 2003 and see what the overall smoking experience would deliver.
Flavor Profile
The start to the Dunhill Aged Reserva Especial 2003 provided a mix of citrus sweetness, cream, and some light pepper notes. By about the ten percent point, the citrus and pepper notes became the primary notes. The pepper had more of a floral spice quality as opposed to a black pepper. The cream notes were secondary at this point.
In the second third, the cream notes increased and became a mainstay primary note. The floral spice and citrus notes were still present and alternated between being a primary and secondary note. This provided some nice change-ups for the remaining part of the cigar experience. The Reserva Especial 2003 was flavorful right until the end. There was no harshness at the end of the cigar. The resulting nub as on the soft side, but it was cool in temperature.
Burn and Draw
Overall the Dunhill Aged Reserva 2003 is a well constructed cigar. This reflects very nicely with the burn and draw attributes as they score very well. The burn line remained sharp from start to finish – requiring minimal touch-ups. The resulting ash was tight with a salt and pepper color. The burn rate and burn temperature were ideal.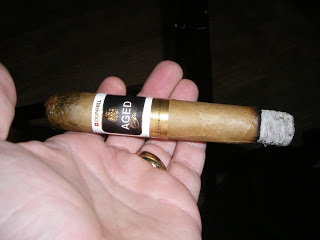 Burn of the Dunhill Aged Reserva Especial 2003
The draw was outstanding. There was no resistance to the draw, but it wasn't loose either. This made for a very enjoyable, low maintenance cigar to puff on.
Strength and Body
As I mentioned at the start of this assessment, this cigar leans toward the milder side – and this reflects with both the strength and body of this cigar. From a strength perspective, this cigar sits on the mild tend, so it is not going to provide much pop. As for the flavors, they start out subtle – on the mild to medium-bodied side. Toward the last third, this flavors progress into medium-bodied territory. Overall, this is a cigar that is going to emphasize flavor over strength. The fact that this is mostly a mild to medium-bodied cigar, I found the mild strength to work very nicely here.
Final Thoughts
This was a very good cigar. It definitely is one of the better cigars that leans on the milder side that has been released in 2013. Given the age of some of the fillers and the fact this had a Connecticut Shade wrapper, I was not surprised that the Dunhill Aged Reserva Especial 2003 leaned this way. This is a cigar that carries an SRP of $15.00. We do not factor price into our assessment or score, but this is mentioned for informational purposes. Overall, I did like this blend in the 5 1/2 x 54 vitola. It's a great special occasion cigar for someone ramping up on cigars. I would recommend this to an experienced cigar enthusiast who tends to lean toward a milder smoke. As for myself, this is a cigar I would smoke again – and one I would like to keep of a few of in my humidor.
Summary
Burn: Excellent
Draw: Excellent
Complexity: Medium
Strength: Mild
Body: Mild to Medium (Medium toward end)
Finish: Good
Assessment: Nice to Have
Score: 91
Source: The cigars for this assessment were purchased from Havana Phil's in Greensboro, North Carolina.