Espinosa Cigars has announced a fifth vitola to their 601 La Bomba line.  This vitola is a 7 x 70 size and has been dubbed La Bomba F-Bomb.  The announcement was made via a video on the company's Facebook page.
The 601 La Bomba line was originally part of the EO Brands portfolio  It was introduced back in 2011. Last year, the EO Brands company was (amicably) dissolved. The principal partners Erik Espinosa and Eddie Ortega would go on to form their own companies.  Espinosa would form Espinosa Cigars and as a part of the split would inherit the 601 (as well as the Murcielago and Mi Barrio lines).  Espinosa would also go on to purchase his own factory, La Zona – and the 601 line would be made there.
The video mentions that the 601 La Bomba F-Bomb is available now.  Espinosa Cigars has mentioned the cigar has been shipped to some retailers.  It carries with an SRP of $9.99 The cigar is packaged in ten count boxes.  The packaging features a "window" at the bottom that showcases the footer bands that are on the La Bomba.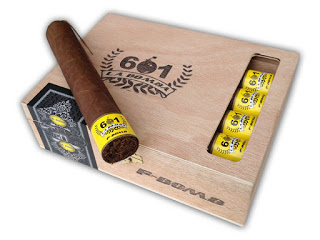 Back in December we assessed the 601 La Bomba in the Atom (Corona) size and scored it a 90. The La Bomba line is designed to be a full strength, full-bodied cigar. 
Blend Profile
The 601 La Bomba is a Nicaraguan puro:

Wrapper: Nicaraguan Habano
Binder: Nicaraguan
Filler: Nicaraguan

Vitolas AvailableThe F-Bomb becomes the fifth size in the 601 La Bomba line:
F-Bomb: 7 x 70
Atom
: 5-1/2 x 46
Napalm: 5 x 52
Nuclear: 6 x 50
Atomic: 6 x 60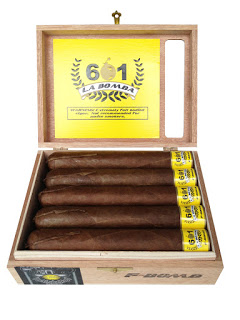 Source: Additional information and photos provided by Espinosa Cigars