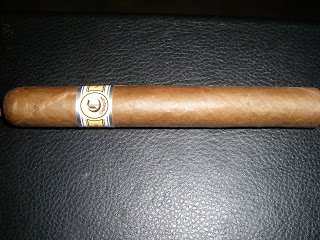 Tatuaje Cabaiguan WCD 120 Redux Returns
as the WCD House Cigar
This past weekend, Washington DC/Bethesda, Maryland area W. Curtis Draper launched their new WCD House Cigar. This cigar marks the return of the Tatuaje Cabaiguan in a 4 5/8 x 42 petite corona – which will be an exclusive size to W. Curtis Draper. This particular cigar is (currently) the highest scoring cigar in the history of this web-site as it scored a 97 when it was made in a limited return to Draper's in 2012.
The petite corona of the Tatuaje Cabaiguan marks the third time this cigar has been release. In 2007, the cigar was released as the Cabaiguan WCD 120 to commemorate Draper's 120th anniversary. Fast forward to 2012, and a second iteration – the WCD 120- Redux was released for Draper's 125th anniversary. It was the WCD 120 Redux that scored a 97 last year. Now in 2013, the cigar officially has a home as Draper's House Cigar and will be known as the "WCD House Cigar".
The WCD House Cigar is available for purchase at both W. Curtis Draper Tobacconist shops and Civil Cigar Lounge
The name Cabaiguan, this pays homage to Johnson's respect for the Cuban roots of the cigar industry. It is named for a city in the northern Sancti Spirites province that has been home to some of Cuba's most knowledgeable cigar men.

Blend Profile

The blend features a Connecticut Shade Ecuadorian wrapper.

Wrapper: Connecticut Shade Ecuador
Binder: Nicaragua
Filler: Nicaragua

Vitolas Available

For completeness, I'm including all of the blends that have been made available in the Cabiaguan blend. The WCD House Cigar will be packaged in boxes of 12.

WCD House Cigar (WCD 120/ WCD120 Redux): 4 5/8 x 42
Imperiales: 7 x 47
Belicosos Finos: 5 x 52
Coronas Extra 5 5/8 x 46
Robustos Extra: 5 x 50
Petite Cabaiguan 4 x 32