Assessment Updates will be posted on this web-site to: 1) Assess "pre-review" cigars that were not given a rating or score (typically pre-release cigars); 2) Provide numeric ratings to cigars previously assessed prior to the implementation of the numeric scoring system; 3) A re-assessment and re-score of a previously assessed/score cigars. Today, we provide a score for the 601 Blue Label Maduro (better known as the 601 Blue) by Espinosa Premium Cigars. This was a cigar we assessed back in February 2011.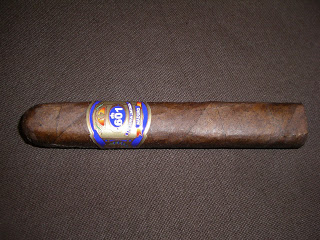 601 Blue Label Maduro
The 601 Blue Label Maduro (better known as the 601 Blue) is a cigar that has been around for several years and has been through a lot of history, yet continues to hold the test of time. 601 was a line of cigars launched by EO Brands. There were a couple of banding changes. The first occurred in 2010 and caused quite a stir among 601 fans – so much that the banding was restored to something very similar to the original in 2011. In addition there have been a lot of business changes – EO Brands went through a couple of distribution changes (Miami Cigar, Rocky Patel), and then the company was dissolved. After EO Brands was dissolved, Erik Espinosa acquired the rights to the 601 brand and brought it into his new company Espinosa Premium Cigars. That's quite a bit of upheaval for any cigar to go through. Yet through it all the 601 Blue has stood the test of time and remains a top-notch cigar.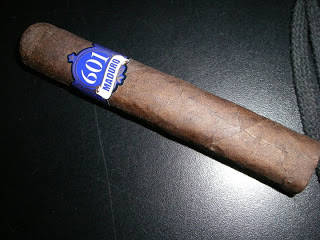 The 2010 banding change of the 601 Blue Label Maduro
The 601 Blue is both the 601 line's first maduro and box-press. It was originally blended by Don Pepin Garcia. The cigar is a Nicaraguan puro that features a Nicaraguan Habano maduro wrapper. The 601 Blue is available in four sizes: Prominente (5 1/2 x 56), Robusto (5 1/4 x 52), Toro (6 1/4 x 54), and Torpedo (6 1/8 x 52). For this assessment update, we explore the Robusto vitola.
The flavor profile has a strong blast of pepper at the beginning. Flavors of chocolate, coffee, citrus, and earth emerge joining the pepper. The earth and citrus notes seemed to factor in a little more with the 601 Blue smoked today, but it still had the chocolate, coffee, and pepper characteristics that have become this cigar's signature. The flavors easily qualify as a full-bodied smoke while the strength is on the upper end of medium to full. Overall, I gave the body a slight edge to the strength on this cigar.
The construction is excellent. This is a cigar that has consistently has had an excellent draw.
Click here to read our original assessment of the 601 Blue Label Maduro.
Assessment: Memorable
Score: 92

Source: The cigars for this assessment update were provided by Espinosa Cigars. Cigar Coop is appreciative for the samples, but in no way does this influence this review.