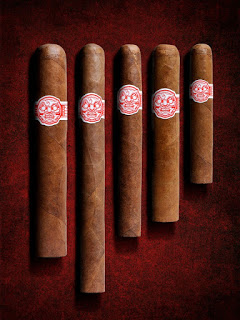 Room 101 HN (Honduras)
(Photo Credit – Room 101 Facebook)
The Room 101 Brand posted a picture of five vitolas of a new cigar called the Room 101 HN (Honduras). While there was no information on the cigar, the caption read "Sneak peek of the new Room101 HN (Honduras), announcement coming soon…"
The cigars each contained a red and white "FU" band, which has become the logo used on many of the cigar bands. This band appears similar to what was used on the Room 101 San Andres and Room 101 Connecticut releases.
The Room 101 HN appears to be the third release in 2013 for Room 101. Earlier this year, the Room 101 Namakubi Ecuador and Room 101 Big Delicious (an exclusive to Florida retailer Smoke Inn) were released. Earlier this year, the we also learned of plans for the limited edition Room 101 Master Collection 1 and 2.
An upcoming announcement for the Room 101 HN follows what has been a very busy for Camacho Cigars, the umbrella brand for which Room 101 is associated with. Earlier this week Camacho announced its "Bold Standard" campaign. As a part of that announcement, Room 101 Brand Owner Matt Booth was referred to as being a part of the "The Board of the Bold" with Camacho collaborators Mike Ditka and Rob Weiss.