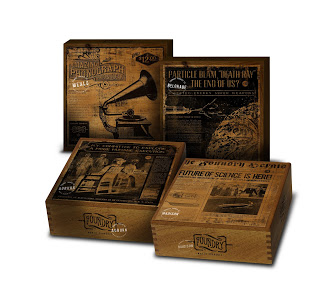 Foundry War of Currents – Small Batch packaging
(Source foundrytobaccocompany.com)
The Foundry War of Currents is a new cigar line that was introduced by General Cigar's Foundry brand at the 2013 IPCPR Trade Show. The theme of this line comes from an intellectual batttle between Nikola Tesla and Thomas Edison. The battle was over whether AC (Alternating Current) or DC (Direct Current) technology was superior for electricity. Tesla was an advocate for AC while Edison supported DC. War of Currents introduces two blends – one intended to be core line known as "The Laboratories" and a second limited production small batch line known as "The Inventions". In this cigar preview, we focus on the small batch line known as "The Inventions".
According to General Cigar, it is limited availability of the tobaccos that makes this a small batch. The small batch line takes its theme from the inventions that both Tesla and Edison worked on. The blend for the "Inventions" line differs from the War of Currents – Laboratories line.
The four invention names used for this vitolas are:
Auburn (Edison): This was an electric chair – created by Edison's employees.
Belgrade (Tesla): This was a plan for a particle beam or "death ray". Tesla never finished this invention.
Madison (Tesla): This is some of the earliest technology used for remote control.
Menlo (Edison): This refers to Edison's phonograph.
The packaging for the War of Currents Small Batch line features vintage newspaper clipping prints announcing the inventions.
It was at the 2012 IPCPR Trade Show where General Cigar launched the Foundry brand. The first release was a self-titled cigar called Foundry that paid homage to the Steampunk era. In addition to the War of Currents Laboratories and Inventions blends, the brand is launching 18 additional blends across 12 packages in a line called Compounds, Elements, and Musings. According to our discussions with General Cigar, the Foundry brand will begin to operate as more of a company within a company and is thus being referred to as Foundry Tobacco Company.
At a glance, here a look at the Foundry War of Currents – The Inventions

Blend Profile

Like the core Foundry line, General Cigar is not disclosing information about the blend. Like the core Foundry blend, the tobaccos are not typical types used in cigar blends.

Wrapper: Not disclosed
Binder: Not disclosed
Filler: Not disclosed

Vitolas Available

Foundry War of Currents – The Inventions will be packaged in boxes of 10. Here are the dimensions of the four vitolas:
Auburn: 6 x 50 (SRP $8.25)
Belgrade: 5 3/4 x 60 x 56 x 43 (SRP $9.45)
Madison: 6 x 57 (SRP $8.95)
Menlo: 5 x 60 (SRP $8.45)