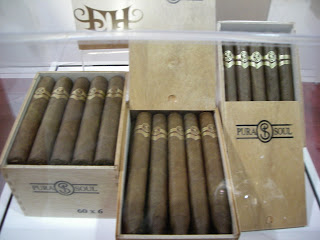 Pura Soul
Christian Eiroa's Fabricas Unidas was definitely one of the busier booths at the 2013 IPCPR. While the entities of CLE, Asylum, Wynwood, and Edgar Hoill Cigars got some attention, there also was another cigar that was one display at the booth. This one is called Pura Soul.
We were able to find out that Pura Soul is a cigar being done for someone by the name of Robert Wright. Wright had worked with Eiroa back at Camacho Cigars. Fabricas Unidas is producing the cigar for Wright. We are told there will be a limited distribution of this cigar to start – mostly on the East Coast.
There were not a lot of details on this cigar, but we were told the Cigar is a Nicaraguan puro. When Fabricas Unidas announced the opening of the Aladino Factory in Honduras, it was mentioned that there would be several lines of cigars produced outside the factory in Nicaragua. Pura Soul was mentioned as one of those lines.
The cigar also has a theme of music around. In a video done by Fabricas Unidas recapping the IPCPR Trade Show Wright is quoted as saying, "I'm a also a musician for 40 years, so I wanna bring the music element of jazz to the experience of smoking a good cigar."