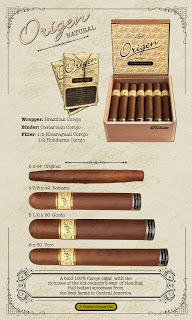 J. Fuego Cigar Company is adding a 5 1/2 x 60 line extension to its popular J. Fuego Origen Natural and Maduro lines of cigars.The new line extensions will be launched at the 2013 IPCPR Trade Show. The announcement of these new vitolas were made by company President Jesus Fuego and has been reflected on the J. Fuego company web-stite.
The Fuego
family has a five generation history in the cigar business that
originated in Cuba. The Fuego family left Cuba in 1995 and landed in
Central America. Jesus Fuego worked as a grower and blender for many
other companies before setting out on his own and founding Tabacos S.A.
This would launch the J. Fuego brand. Recently Fuego rebranded the
company J. Fuego Cigar Company.
J. Fuego Cigar Company has had a very busy past twelve months in terms of streamlining its product portfolio and unveiling new packaging options.
The J. Fuego Connoisseur marks the first major regular production
release since these changes. The company also recently launched its
limited edition J. Fuego Edicion de Familia and announced the J. Fuego Connoisseur.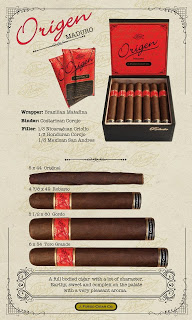 At a glance, here is a summary of the J. Fuego Origen Natural and Maduro lines:
Blend Profile
J. Fuego Natural
The J. Fuego Origen Natural features 100% corojo tobacco from four countries:
Wrapper: Brazilian Corojo
Binder: Costa Rican Corojo
Filler: 1/2 Nicaraguan Corojo, 1/2 Honduran Corojo
J. Fuego Maduro
The J. Fuego Maduro is a different blend than the Natural and is not 100% Corojo
Wrapper: Brazilian Mata Fina

Binder: Costa Rican Corojo
Filler: 1/3 Nicaraguan Corojo, 1/3 Honduran Corojo, 1/3 Mexican Sandres
Vitolas Available
For completeness we list all the vitolas in the Origen Natural and Origen Maduro lines: These lines now currently have identical vitola offerings:
Original: 5 x 44
Robusto: 4 7/8 x 49
Gordo: 5 1/2 x 60
Toro: 6 x 50